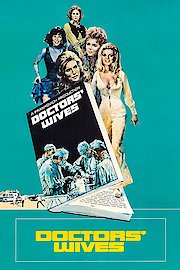 Watch Doctors' Wives
"Doctors' Wives have everything. Except husbands."
R
1970
1 hr 41 min
Doctors' Wives, released in 1971, is a drama film directed by George Schaefer and starring Dyan Cannon, Richard Crenna, Gene Hackman, and Carroll O'Connor. The plot revolves around the lives of three doctors' wives who are dissatisfied with their mundane lives and attempt to find extramarital excitement and fulfillment. The film begins with Barney (Gene Hackman), a wealthy gynecologist, and his wife, Clare (Carroll Baker), hosting a dinner party. Among the guests are Mike (Richard Crenna), a successful plastic surgeon, and his wife, Sheila (Dyan Cannon), a former model with a history of mental illness. Also attending is Sid (Dr. Sidney Redlitch), a cardiologist and Barney's best friend. Despite the apparent affluence, the wives are discontented with their lives, and conversation revolves around their dissatisfaction.
Sheila is particularly unhappy with her marriage to Mike, who is dismissive of her feelings and wishes. She confides in her friend, Fran (Janice Rule), and begins an affair with a gallery owner named David (John Colicos). Meanwhile, Clare is struggling with her husband's infidelity and her lack of fulfillment in life. She also begins an affair with Barney's business partner, Sam (Ralph Bellamy), which leads to further complications.
Mike, on the other hand, is preoccupied with his work and the success it brings. He forms a bond with his patient, Lorraine (Rachel Roberts), a wealthy and unhappy housewife who is grappling with her own sense of inadequacy. Despite their shared misery, the connection between Mike and Lorraine remains platonic.
As the film progresses, the lives of the three couples become increasingly intertwined, leading to a series of crises and revelations. Sheila's affair is exposed, leading to a confrontation between her, Mike, and David. Clare's affair with Sam becomes known to Barney, leading to a violent argument between the two men. In the midst of all this chaos, Lorraine commits suicide, throwing Mike into a deeper state of despair.
Doctors' Wives explores themes of infidelity, dissatisfaction, and the search for fulfillment. The film is notable for its frank portrayal of sex and adultery in a time when such topics were still considered taboo. The cast delivers strong performances, particularly Dyan Cannon as the troubled Sheila and Richard Crenna as the work-obsessed Mike.
Overall, Doctors' Wives is a compelling drama that offers a glimpse into the lives of affluent suburbanites in the early 1970s. While the characters' actions may be questionable, their struggles to find meaning and purpose in their lives remain relatable.
Doctors' Wives is a 1970 drama with a runtime of 1 hour and 41 minutes. It has received mostly poor reviews from critics and viewers, who have given it an IMDb score of 4.6.