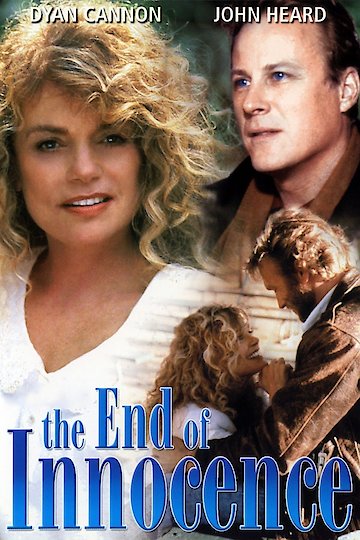 Watch The End of Innocence
R
1990
1 hr 42 min
The End of Innocence is a 1990 drama film centered on the life of an independent and unconventional woman named Stephanie Lewis (Dyan Cannon) and her journey of self-discovery. The movie, directed by Dyan Cannon herself, follows Stephanie as she grapples with her past, present, and future while trying to find a balance between her personal and professional life.
Stephanie, a successful Los Angeles-based photographer, is thrust into a reflective and contemplative phase of her life after a traumatic event rocks her world. The film opens with Stephanie already struggling with her past as she contemplates her ex-husband Alex (John Heard), whom she had divorced over a decade ago. The two reunite at a mutual friend's party, sparking a series of flashbacks of their past relationship and the events that led to their divorce.
As Stephanie navigates her way through the memories of her past, she also finds herself dealing with the present. She gets caught up in a love triangle with a much younger man named Andrew (Michael Wayne Thomas), an aspiring photographer, and a successful businessman named Arthur (George Coe), who is married to Stephanie's friend Fran (Lori Loughlin). Stephanie finds herself drawn to Andrew's youthful energy and potential, while Arthur's stability and comfort prove to be equally alluring.
As Stephanie attempts to balance these complex relationships, she also learns to embrace her true self and confront her inner demons. She starts to realize the importance of forgiveness and letting go of the past, in order to move forward with her life. Her journey of self-discovery provides her with a renewed sense of purpose and identity.
The film's cinematography is one of its defining aspects, as it captures the sights and sounds of Los Angeles in the late 80s and early 90s. The film's use of flashbacks is also noteworthy, as it provides the viewer with a deeper understanding of Stephanie's character and motivations.
The End of Innocence is a poignant and introspective drama that explores themes of love, loss, and self-discovery. The film's ensemble cast delivers strong performances, with Dyan Cannon standing out as the film's lead. The movie's character-driven plot, combined with its beautiful visuals and stunning score, make it a must-watch for fans of 90s dramas.
In conclusion, The End of Innocence is an emotional journey of self-discovery that speaks to the human experience of grappling with past traumas and present-day challenges. It is a film that showcases the beauty of Los Angeles and the complexities of personal relationships, while also delivering a powerful and inspiring message of hope and renewal.