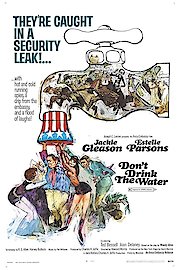 Watch Don't Drink the Water
"They're caught in a security leak!"
G
1969
1 hr 40 min
This comedy romp shows the vacation misadventures of the Walter Hollander family after their flight to Greece is hijacked and taken behind the Iron Curtain. Curiosity gets the best of Hollander's wife, Marion, who begins snapping pictures of their secretive new environment, causing them to be pursued by the police prior to their finding sanctuary at the American Embassy. Now the Hollanders must figure out a way to escape their new prison and return back to the U.S. But their plans are complicated by the fact that daughter Susan is falling in love with the Ambassador's son Axel.