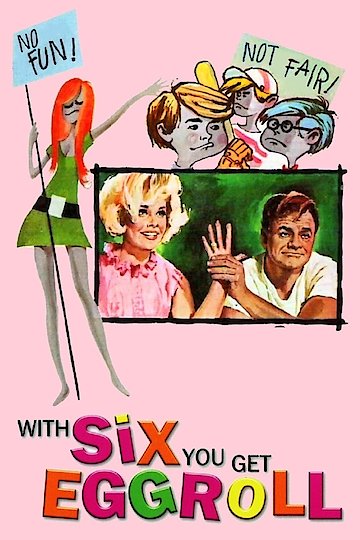 Watch With Six You Get Eggroll
"The return of the happy ending."
G
1968
1 hr 35 min
With Six You Get Eggroll is a light-hearted romantic comedy from 1968, directed by Howard Morris and starring the legendary Doris Day. The film follows the story of Abby McClure, a widowed mother of three sons, who finds herself falling in love with Jake Iverson, a widower with one daughter. When the two decide to get married, they must navigate the challenges of blending their families and dealing with unexpected surprises along the way.
At the heart of the film is the charming performance of Doris Day, who brings her signature warmth and humor to the role of Abby McClure. As a mother who has devoted herself entirely to her children, Abby struggles to open herself up to the possibility of love and the idea of starting a new family. Day captures the character's vulnerability and resilience, making her a sympathetic figure that audiences can root for.
Opposite Day is Brian Keith, who plays Jake Iverson, a rugged and handsome contractor who has also been through the loss of a spouse. Keith imbues Jake with a rough-around-the-edges charm and a palpable sense of decency that makes him a great match for Abby. As the two start to fall for each other, their chemistry is palpable, and their scenes together are sweet and often very funny.
The rest of the cast is also excellent, particularly Pat Carroll as Abby's outspoken best friend Maxine, and Barbara Hershey as Jake's moody teenage daughter Stacey. Carroll provides some of the film's most memorable one-liners, while Hershey delivers a fine and nuanced performance as a young woman struggling to come to terms with her own grief and anger.
With Six You Get Eggroll is a breezy and mostly lighthearted film that manages to explore some deeper emotions while still working as an enjoyable romantic comedy. The challenges of blended families are a central theme, and the film tackles these issues with sensitivity and humor. There are also some surprise twists and turns that keep the viewer engaged and invested in the characters' journey.
The film's setting is also noteworthy, as it was shot on location in Northern California in the late 1960s. The bright colors and trendy fashions of the era are on full display, and the film has a distinctly nostalgic feel that will appeal to fans of vintage films and TV shows.
While With Six You Get Eggroll may not be the most groundbreaking film of its era, it is an enjoyable and well-crafted romantic comedy that showcases the talents of Doris Day and her co-stars. The film's themes of love, loss, and family are timeless, and its message of hope and resilience is still relevant today. Whether you're a fan of classic romantic comedies or just looking for a feel-good movie to watch, With Six You Get Eggroll is a great choice.
With Six You Get Eggroll is a 1968 comedy with a runtime of 1 hour and 35 minutes. It has received moderate reviews from critics and viewers, who have given it an IMDb score of 6.4.