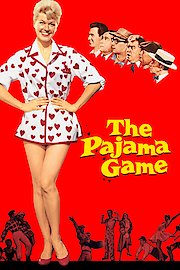 Watch The Pajama Game
"Based on the hit Broadway musical, featuring the choreography of Bob Fosse."
Approved
1957
1 hr 49 min
Based on the long-running stage hit, this vibrant musical satire features dance choreography by the legendary Bob Fosse, and stars effervescent songbird Doris Day as Katie 'Babe' Williams, head of the grievance committee at the Sleep Tite Pajama Factory. Broadway idol John Raitt co-stars as Sid Soroking, the company's new foreman who bluffed his way into the job and intends on keeping it. The beleaguered seamstresses at the factory label him "divine" and all seems rosy for Soroking, but his troubles soon begin when a labor dispute, a cheating owner, and a rocky romance with Babe invade his happy-go-lucky life. Adding to the hilarity are assorted zany characters such as Vernon Hines, Vice President of Sleep Tite and former vaudeville knife-thrower who displays his declining talent to the dismay of those within range, and Babe's father Pop Williams, a locomotive engineer who enjoys collecting stamps and petrified bats!