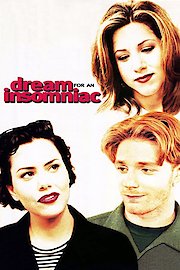 Watch Dream for an Insomniac
"A dreamer who couldn't sleep. An author who couldn't write. A friend who couldn't help but help."
R
1996
1 hr 30 min
Dream for an Insomniac is a romantic comedy released in 1996 directed by Tiffanie DeBartolo. The movie features Ione Skye as Frankie, a coffee shop worker in Los Angeles who's struggling with insomnia and looking for love. Jennifer Aniston plays Allison, Frankie's go-getter sister who's trying to help her find a job, and Mackenzie Astin plays David, a hopeless romantic who falls for Frankie.
Frankie is a young woman who's struggling to find her place in life. She works as a barista at a coffee shop and spends her nights wandering around the city, unable to sleep. But one day, she bumps into David, a charming and handsome young man who takes an interest in her. They start to hit it off, but Frankie's wary of getting into a relationship, especially since David is such a die-hard romantic.
Meanwhile, Frankie's sister Allison is trying to help her out by setting her up on dates and trying to get her a better job. But Frankie is resistant to change and doesn't want to grow up. She's content to live in her own little world, surrounded by movies and the romantic ideals they present.
Throughout the film, we see Frankie trying to deal with her insomnia, her sister's pressure, and her feelings for David. She's a complex character who's struggling with her own demons, and we can see how deeply she cares for the people around her. Despite her ineptitude in some areas of her life, she's fiercely loyal to her friends and family and does everything she can to protect them.
The movie has a distinctly indie vibe, with a jazzy soundtrack and quirky characters. It's both funny and poignant, with a mix of light-hearted humor and heavier emotional moments. Skye is fantastic in the lead role, bringing a vulnerability and depth to Frankie that makes her relatable and sympathetic. Aniston is also great in a supporting role as Allison, playing the straight-laced sister who's always trying to fix things.
The film is peppered with references to classic films, from Casablanca to It Happened One Night. Frankie's love of cinema is a major theme throughout the movie, and we see her relating the events in her life to the plotlines of her favorite films. This creates a sense of nostalgia and sentimentality that's at the core of the film's message.
Ultimately, Dream for an Insomniac is a touching and entertaining film about love, friendship, and finding your place in the world. It's a charming and quirky romantic comedy that's well worth watching.
Dream for an Insomniac is a 1996 romance movie with a runtime of 1 hour and 30 minutes. It has received moderate reviews from critics and viewers, who have given it an IMDb score of 6.0.