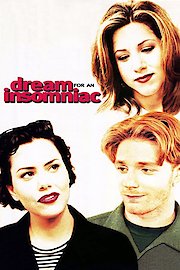 Watch Dream for an Insomniac
"A dreamer who couldn't sleep. An author who couldn't write. A friend who couldn't help but help."
R
1996
1 hr 30 min
Frankie (Ione Skye) is an aspiring actress and an insomniac. She works in her uncle Leo's cafe, Cafe Blue Eyes, and dreams of meeting a lover with blue eye's like Frank Sinatra (whom the cafe is named for). Leo took her in when her parents died in a car wreck, and has not slept through the night since. In between working at the cafe, she goes on auditions with her friend Allison (Jennifer Aniston). Blue eyed David Shrader (Mackenzie Austin) starts working at the cafe, and Frankie falls in love with him while he tries to help her cure her insomnia.