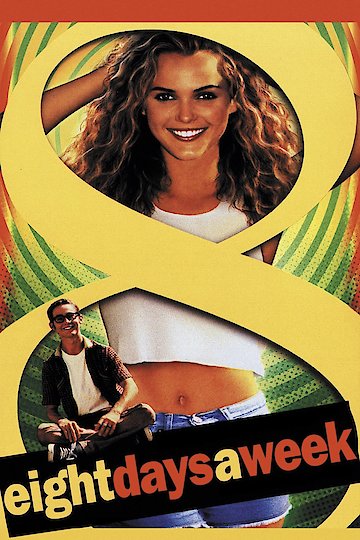 Watch Eight Days a Week
"He Came. He Sat. He Conquered."
R
1999
1 hr 32 min
Eight Days a Week is a 1997 coming-of-age comedy-drama directed by Michael Davis. The film is set in Los Angeles during the summer of 1972 and centers around Peter (Joshua Schaefer), a shy teenager who works at his father's diner and has a crush on his neighbor Erica (Keri Russell). Peter spends his days dreaming about Erica and listening to his favorite band, The Beatles. When he learns that The Beatles are going to play at the nearby Hollywood Bowl, he decides to do whatever it takes to get tickets. He enlists the help of his best friend, Joey (R.D. Robb), and together they come up with a plan to earn enough money to buy the tickets. They start by running a sandwich delivery service for a movie studio, but things quickly spiral out of control and they end up getting involved in all sorts of wacky schemes and shenanigans.
As Peter and Joey go on their adventures, they also learn some valuable lessons about friendship, love, and growing up. Peter becomes more confident and assertive, standing up to his overbearing father and even confronting his crush in a moment of boldness. Joey, meanwhile, grapples with his own issues, including his troubled family life and his desire to fit in with a cooler crowd.
The movie is a nostalgic love letter to the 1970s, filled with references to classic rock bands, TV shows, and movies of the era. The soundtrack is also full of catchy tunes from the likes of The Beatles, The Kinks, and The Who.
At its heart, Eight Days a Week is a sweet and earnest film about the joys and challenges of adolescence. It captures the excitement of youth and the bittersweet feeling of growing up and saying goodbye to the things we love. The performances from the young cast are charming and authentic, and the script balances humor and heart in just the right way.
Overall, Eight Days a Week is a delightful and heartwarming movie that will transport viewers back to a simpler time. Its portrayals of teenage friendship, crushes, and ambitions will resonate with anyone who has ever been young and full of dreams.
Eight Days a Week is a 1999 comedy with a runtime of 1 hour and 32 minutes. It has received moderate reviews from critics and viewers, who have given it an IMDb score of 6.0.