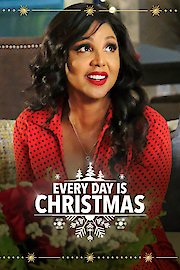 Watch Every Day Is Christmas
TV-PG
2018
1 hr 25 min
Every Day Is Christmas is a 2018 made-for-television movie directed by Canadian filmmaker David Weaver who is best known for his work on the series Suits. This holiday film centers around a stoic businesswoman named Alex Cartwright played by the Grammy award-winning singer Toni Braxton who finds herself stuck in a time loop that forces her to relive Christmas Eve over and over again. Through the experience, she begins to reevaluate her priorities and reconnects with her estranged family.
The movie begins with Alex preoccupied with work and feeling frustrated that her employees, including her assistant Regina (played by Gloria Reuben), aren't performing up to her standards. She has no time for the holiday season, which she believes to be pointless and a waste of time. However, when Alex finds herself transported back in time to the morning of December 24th, she is forced to relive the same day repeatedly.
At first, Alex is in disbelief, but as the day plays out again and again, she starts to realize that she is indeed stuck in a time loop. With each lost day, she tries to adjust her actions to escape the repetition only to find herself back at square one the following morning. This process continues for days, and she eventually reaches the point of desperation, wondering if she will ever get out of this jarring cycle.
Throughout the story, Michael Jai White portrays the character of Duncan, a mysterious stranger who pops up in Alex's life almost every day, under various mistaken circumstances. Despite Alex's suspicion of him, Duncan seems to know more about Alex than he lets on and becomes a kind of confidant for her as time passes.
As the timeline resets, Alex starts to realize that her cold-hearted attitude toward Christmas comes from a place of hurt and regret. Deep down, she's been holding onto feelings of shame and childhood trauma that have prevented her from enjoying the holiday. Her family dynamics also play a large role in her closed-off personality, as she had distanced herself from her parents, refusing to join them for the festivities.
Over time, Alex begins to reassess her priorities as she uncovers the root causes of her anger towards the holiday season. She also reaches out to her family, including her mother and father, with whom she had not spoken in a long time. Together, they start to work towards forgiveness and understanding. As she tries to break the time loop and yield to the change that is happening in her life, Alex starts to look forward to Christmas again.
Every Day is Christmas gives the viewer a touching take on the classic holiday story where someone relives the same day. The movie makes an excellent job of not getting caught up in the time loop as much as making the poignant transition of Alex's character. As Alex's journey progresses, the audience becomes more invested in the story and the characters. Viewers will see their hearts warmed up as Alex finds true meaning in Christmas and values her family through self-reflection.
Overall, Every Day Is Christmas is a heartwarming tale of forgiveness, self-reflection, and newfound love for the holiday season. The film's story is a great reminder of the importance of family and the significance of the holiday season, especially for people who may be struggling to find joy in their lives. With its impressive cast and a moving storyline, this is a film that delivers a profound message about the power of love and the importance of keeping an open heart.
Every Day Is Christmas is a 2018 drama with a runtime of 1 hour and 25 minutes. It has received moderate reviews from critics and viewers, who have given it an IMDb score of 5.9.