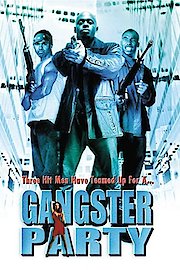 Watch Gangster Party
"Three Men Have Teamed Up For A Gangster Party"
NR
2002
1 hr 28 min
When a drug lord by the name of Herman Delgato starts killing his under bosses for an attempted mutiny of his organization, he is spotted by a witness and arrested. The government assigns a witness protection specialist to the case but Herman Delgato has other plans for the witness. Through his contacts he hires three of organized crimes most notorious hit men.