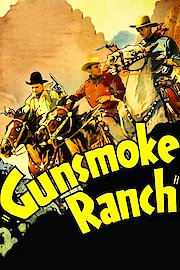 Watch Gunsmoke Ranch
"BRAND NEW THRILLS WITH YOUR CAVALIERS OF THE CACTUS!"
Approved
1937
53 min
Gunsmoke Ranch is a 1937 Western film that stars Robert Livingston, Ray Corrigan, and Max Terhune as three cowboys who set out to protect a rancher and his daughter from a group of bandits who want to take over their land. The film was directed by Joseph Kane and produced by Republic Pictures. The story starts in a small town in California, where a group of outlaws led by Blackie Gale (played by Charles King) is terrorizing the locals. The rancher Jim Morgan (Syd Saylor) and his daughter Judy (Julia Thayer) are the latest victims of their violent acts. Blackie wants to take over their land, but Jim refuses to sell, as it's the only thing he has left after losing everything else to the bank.
Enter the Three Mesquiteers: Stony Brooke (Robert Livingston), Tucson Smith (Ray Corrigan), and Lullaby Joslin (Max Terhune). The trio is passing through town when they witness one of Blackie's men beating up Jim. They intervene and quickly realize that there's a bigger problem at hand.
The Mesquiteers offer to help Jim and Judy, and they all ride to Gunsmoke Ranch, where the Morgan family lives. There, they meet the foreman, Dusty (Jack Mulhall), who welcomes their assistance. He tells them that Blackie has hired a gang of cowboys to scare off the ranchers in the area and take over their land.
Stony, Tucson, and Lullaby decide to stay and protect the Morgans. They quickly realize that Blackie's men are not only dangerous but also smart. They know how to sabotage a ranch and create diversions to keep the Mesquiteers busy.
The action heats up as the Mesquiteers and the outlaws engage in a series of shootouts and fistfights. They also use their wits to outsmart each other, as the Mesquiteers come up with clever traps and strategies to catch the enemy off-guard.
The film features a good mix of action, humor, and romance. Robert Livingston is the classic hero, handsome and brave, always ready to stand up for the weak and the oppressed. Ray Corrigan is the tough guy, agile and deadly with his fists. Max Terhune provides the comic relief, with his ventriloquist skills and his love for his dummy, Elmer.
The supporting cast also delivers solid performances, with Charles King as a convincing villain and Jack Mulhall as a loyal friend. Julia Thayer is charming as the love interest, and Syd Saylor provides some touching moments as the father who just wants to keep his land.
Gunsmoke Ranch is a typical B-Western, with a low budget and a simple plot. However, it manages to entertain and engage the audience with its fast-paced action and likable characters. The film also showcases the beautiful scenery of the West, with its majestic mountains and vast plains.
Overall, Gunsmoke Ranch is a fun and enjoyable movie that will please fans of the Western genre. It's not groundbreaking, but it's well-made and entertaining, with a good mix of action and humor. It's a testament to the enduring appeal of the Three Mesquiteers, who starred in dozens of films during the Golden Age of Hollywood.
Gunsmoke Ranch is a 1937 action movie with a runtime of 53 minutes. It has received moderate reviews from critics and viewers, who have given it an IMDb score of 5.5.