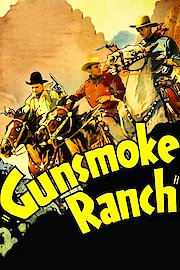 Watch Gunsmoke Ranch
"BRAND NEW THRILLS WITH YOUR CAVALIERS OF THE CACTUS!"
Approved
1937
53 min
The Three Mesquiteers are engaged in helping new settlers find appropriate new homes along Gunsmoke Ranch. The main gent helping them makes assurances of peace and prosperity, but the land has been marked for the development of a new dam. How will honest working folk find suitable land while dealing with a crooked man who sees them as easy targets. Gunsmoke Ranch is the sight of a fight between greed and western manifest destiny.