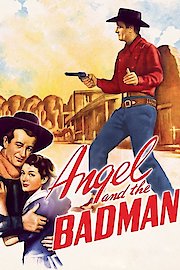 Watch Angel and the Badman
"He lived only for revenge...She lived only for his love!"
Passed
1947
1 hr 40 min
The movie Angel and the Batman is a western film that stars John Wayne and Gail Russel. In this movie the cowboy Quirt Evans is injured during a gunfight. He meets a nurse who helps him get back to health. He stays with the nurse and her family. This change does not come easy. Several times Quirk turns to leave and go back to his gun fighting life. The nurse named Penny manages to talk him out of going every time. This family is a group of Quakers and get Evans to turn from violence to peace. As the two grow closer many people in the town oppose their new friendship. Slowly Penny and Evans start to fall for each other and plan out a new life.