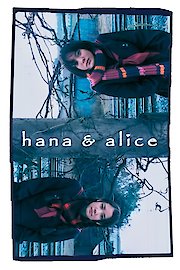 Watch Hana and Alice
"Best friends and boyfriends, which one will you choose?"
2004
2 hr 15 min
In this tale of teenage romance, the friendship experienced by Japanese teenagers Hana and Alice is put to the test once they enter high school. While riding the train, Hana becomes infatuated with a stranger, and Alice takes notice of his half-brother Masashi. The girl's enroll in Masashi's high school during the spring term. When Masashi develops a case of amnesia due to a blow on the head, Alice convinces him she is his girlfriend. Hana helps her with the ruse by telling Masashi she is his ex-girlfriend. But when the girls' lies unravel, their friendship faces the ultimate test.