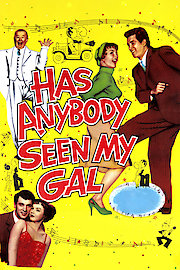 Watch Has Anybody Seen My Gal
"How you'll cheer the hit songs of the roaring twenties!"
Approved
1953
1 hr 25 min
The happy days, the mad fads, the great songs of the Roaring Twenties. An aging heir-less millionaire wants to leave his fortune to the unsuspecting family of his first love but not before testing his prospective heirs by living with them under the guise of a poor boarder.