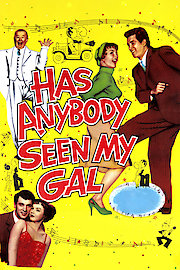 Watch Has Anybody Seen My Gal
"How you'll cheer the hit songs of the roaring twenties!"
Approved
1953
1 hr 25 min
Has Anybody Seen My Gal is a heartwarming and humorous romantic comedy that was released in 1952. The film is directed by Douglas Sirk and stars Piper Laurie, Rock Hudson, and Charles Coburn. The story is set in a small town in the early 20th century and follows a wealthy, elderly man named Samuel Fulton (Coburn) who is looking for the woman he loved decades ago. He offers a $100,000 reward to anyone who can find her, and this sets off a chain of events that lead to unexpected connections and romantic sparks.
The film starts with the retirement of Samuel Fulton, a successful businessman who has amassed a fortune. As he prepares to leave his company, he realizes that he has no one to leave his wealth to. He ponders over the lost love of his life, a woman he met during his early days in New York City, and decides to use his money to find her. Fulton's lawyer, George Phillips (Gigi Perreau), is given the task of locating the woman. She is successful in discovering her identity, but her granddaughter, Millicent "Millie" Blaisdell (Laurie), is the lady's only surviving heir.
Millie is a shy and introverted young woman who lives in a modest house with her stepmother and stepsisters. When George and Fulton visit her, she is hesitant to claim the money, but Fulton is smitten with her and offers her a job as his secretary. She agrees, and soon she finds herself transported to a world of wealth and luxury. This new world is a stark contrast to the life she's been leading, and she is initially overwhelmed. However, her sincerity impresses Fulton, who soon sees her as the daughter he never had.
As Fulton and Millie spend more time together, they form a heartwarming bond, and Fulton becomes a father figure to her. Fulton also introduces her to his grandson, Rock (Hudson), who at first comes across as arrogant and smug. However, he soon realizes that there is more to Millie than meets the eye and the two of them begin to fall in love.
As the plot unfolds, Fulton's search for his lost love leads him to New York City, and Millicent's stepsisters trick her into joining them on a trip to the city. The trip proves to be an eye-opener for Millicent, who becomes more confident and self-assured as she navigates the bustling city. Meanwhile, Rock comes down to the city to convince Millicent to come back with him, but he soon realizes that she is no longer the same girl he left behind.
The film is a delightful comedy of errors, with Fulton's unexpected search leading to a high-stakes romantic drama. The story is brought to life by the masterful performances of the cast. Charles Coburn is excellent as Fulton, conveying both the playfulness and the vulnerability of the character. Piper Laurie is charming as Millie, capturing the subtle emotional nuances of the character. Rock Hudson turns in a solid performance as Rock, portraying the transformation of his character convincingly.
Overall, Has Anybody Seen My Gal is an entertaining and engaging film that offers insight into the human condition. The movie explores themes of love, loss, longing, and the transformative power of human connections. It is a celebration of the American Dream, capturing the optimism and hopefulness that defined the country during the early 20th century. If you're in the mood for a charming and feel-good romantic comedy, you won't go wrong with Has Anybody Seen My Gal.