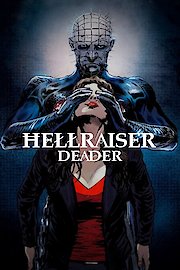 Watch Hellraiser VII: Deader
"The Latest. Most Terrifying Evil."
R
2004
1 hr 28 min
Hellraiser VII: Deader is a 2005 supernatural horror movie directed by Rick Bota and starring Kari Wuhrer, Ionut Chermenski, Hugh Jorgin, and Linda Marlowe. The movie is the seventh installment in the Hellraiser franchise and is loosely based on a story by Clive Barker. The main character of the movie is Amy Klein (played by Kari Wuhrer), a reporter for an underground newspaper in New York City. When Amy is assigned to investigate a series of bizarre deaths in Romania, she travels to Bucharest, where she discovers an ancient cult that worships the Cenobites, the demonic beings from a parallel dimension that are central to the Hellraiser mythology.
As Amy delves deeper into the cult's secrets, she discovers that the leader, named Winter (played by Paul Rhys), possesses a mysterious artifact that can bring back the dead. Amy becomes obsessed with the artifact and the power it holds, leading her down a dangerous path towards the Cenobites and the dark world they inhabit.
The movie is atmospheric and creepy, with plenty of gore and violence to satisfy horror fans. The special effects are well-done, particularly the makeup and prosthetics used to depict the Cenobites, which are both grotesque and fascinating.
Kari Wuhrer delivers a strong performance as Amy, playing the character with a mix of vulnerability and determination. The rest of the cast is also solid, particularly Ionut Chermenski as Joey, a member of the cult who befriends Amy and helps her navigate their dangerous world.
One of the strengths of the movie is its exploration of the Cenobites and the mythology of the Hellraiser franchise. While some of the previous sequels had strayed from the original concept of the Cenobites as otherworldly, dispassionate beings who offer pain and pleasure beyond human understanding, Hellraiser VII: Deader embraces and expands on this concept.
The movie also has a strong sense of location, with the dark and oppressive atmosphere of Bucharest adding to the sense of foreboding and danger that permeates the story.
Overall, Hellraiser VII: Deader is a solid entry in the franchise, with strong performances, effective scares, and a satisfying exploration of the Hellraiser mythology. While it may not be as groundbreaking or influential as the original Hellraiser, it is certainly worth a watch for fans of the genre.
Hellraiser VII: Deader is a 2004 horror movie with a runtime of 1 hour and 28 minutes. It has received mostly poor reviews from critics and viewers, who have given it an IMDb score of 4.5.