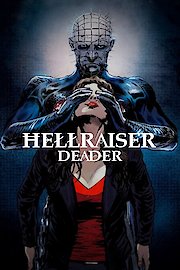 Watch Hellraiser VII: Deader
"The Latest. Most Terrifying Evil."
R
2004
1 hr 28 min
Amy Klein is investigating the taped ritual murder-and-raising of a member of the "Deader" cult. Upon tracking the tape's return address, she find a girl's corpse holding the iconic Lament Configuration puzzle box of the series. Pinhead appears to Amy after she solves the box, warning her of great peril. Amy continues to track the story, discovering that the Deader leader is descended from the Configuration's creator. "Winter" regards himself as the rightful heir to the realm of the Cenobites, despite being unable to figure out the box's puzzle. Amy must bring Winter to justice while preventing the Cenobites' conquest.