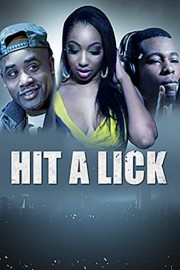 Watch Hit a Lick
NR
2020
1 hr 32 min
Hit a Lick is a crime drama film that was released in 2017. The movie tells the story of a young woman named Falicia Blakely (played by Lil Mama) who is living in Atlanta and struggling to make ends meet. She is a single mother, and her job as a stripper is not enough to support herself and her two young children. Falicia's life takes a dark turn when she meets a man named Big Dino (played by J. Alphonse Nicholson), who introduces her to a life of crime. Big Dino is a drug dealer, and he convinces Falicia to become one of his runners. At first, Falicia is hesitant, but she soon realizes that this is the only way she can provide for her family. She becomes a successful drug dealer, and her life seems to be improving.
However, Falicia's luck soon starts to run out when another drug dealer named Aaliyah (played by Tye Banks) starts to encroach on Big Dino's turf. Aaliyah is ruthless and violent, and she wants to take over Big Dino's drug operation. This leads to a brutal turf war between the two drug dealers, and Falicia gets caught in the middle.
The movie shows how Falicia's life evolves from being a single mother trying to make ends meet to a drug lord that commits robberies and murders. She gets deeper and deeper into the criminal underworld, and her life becomes more dangerous with every passing day. Her involvement with Big Dino and her addiction to drugs influence her to make harsh decisions that will be detrimental to her life.
Hit a Lick is a movie that highlights the consequences of decisions made. It also sheds light on victimizing young women who are vulnerable to predatory men who take advantage of their delicate life situations. Falconia's character is an epitome of the African American young girl who was failed by the social system, exposed to drugs by significant others, and engrossed in a world of crime. The movie paints the picture of the dark side of Atlanta and how it's a constant target for crime syndicates as a hub of drug distribution.
The film utilizes flashbacks and voice-overs to tell the story, and it's visually pleasing. The movie's colors are vivid, and the picture quality is top-notch, portraying Atlanta's night scenes as a haven for the bad guys. The movie's characters are well developed, and they all have their unique quirks and personalities. However, Lil Mama steals the show in her portrayal of Falicia- she's vulnerable, naive, yet strong-willed. Her character development from wanting to quit the drug world to being the leader of the trade is a testament to her versatility as an actor.
Overall, Hit a Lick is an emotional rollercoaster movie that is a mix of crime, drama, and action. It depicts how life-changing decisions can lead to a path of destruction that affects not only the individual but also the people they love the most. The movie is an eye-opener to how individuals can get caught up in the wrong crowd, leading to a life of crime that could have fatal consequences. The film highlights the need for change in the system and society as a whole to avoid the perpetuating cycle of criminal activity that tends to engulf marginalized communities.
Hit a Lick is a 2020 drama with a runtime of 1 hour and 32 minutes. It has received mostly positive reviews from critics and viewers, who have given it an IMDb score of 8.2.