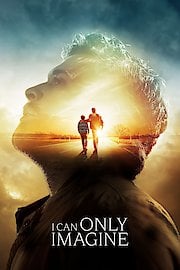 Watch I Can Only Imagine
"The Song You Know. The Story You Don't."
PG
2018
1 hr 50 min
30
I Can Only Imagine is a 2018 biographical drama film directed by Andrew and Jon Erwin. It is based on the true story behind the popular Christian song of the same name. The film stars J. Michael Finley as Bart Millard, the lead singer of the Contemporary Christian band MercyMe, Madeline Carroll as Shannon, Bart's childhood sweetheart and eventual wife, and Dennis Quaid as Arthur, Bart's abusive father.
The film explores the difficult childhood of Bart, living with his father, who was a violent and bitter man after the death of his wife. Bart found solace in his music, and eventually formed a band with a group of friends. Their first attempts at success were met with rejection, and Bart struggled to follow his dream while continuing to deal with the trauma of his past.
As Bart's band began to gain popularity, he was forced to confront his relationship with his father, who was dying of cancer. Bart's struggles led him to write the song "I Can Only Imagine," which became a major hit and an anthem of hope for millions of people around the world.
The film is a powerful exploration of the themes of redemption, forgiveness, and the transformative power of faith. As Bart navigates his relationship with his father and the impact of his past on his present, he learns to embrace his true identity as a musician and a Christian, and finds the strength to overcome the pain of his childhood.
With strong performances from its lead actors and powerful emotional resonance, I Can Only Imagine is a moving and inspiring drama that will leave audiences uplifted and deeply touched.
Overall, I Can Only Imagine is a powerful and uplifting film that explores the transformative power of personal and spiritual growth. Through its moving portrayal of Bart's journey, it demonstrates the importance of forgiveness, acceptance, and the power of faith to heal even the deepest wounds of the past.
I Can Only Imagine is a 2018 music movie with a runtime of 1 hour and 50 minutes. It has received mostly poor reviews from critics and viewers, who have given it an IMDb score of 7.3 and a MetaScore of 30.