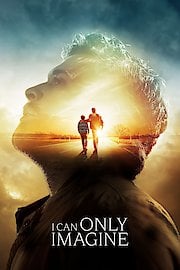 Watch I Can Only Imagine
"The Song You Know. The Story You Don't."
PG
2018
1 hr 50 min
30
In this Christian drama, the story behind the hit song of the same name unfolds. It involves a boy who undergoes a Christian conversion and then has to use his faith to get through family tragedy. Then he writes a song about it. Ten-year-old Bart Millard lives with his mother and abusive father Arthur in Texas. One day, Bart's mother drops him off at a Christian camp, where Bart meets Shannon. Upon his return from camp, Bart finds that his mother has left and movers are removing her belongings. Bart angrily confronts Arthur, who denies that his abusiveness was the reason she left. Years later, in high school, Bart and Shannon are dating. Bart plays football to please Arthur, but is injured, breaking both ankles and ending his career. The only elective with openings is music class, so he reluctantly signs up. Initially, Bart is assigned to be a sound technician, but after overhearing him singing, the director casts him in the lead role in the school production of Oklahoma!. Bart overcomes his reluctance and gives an impressive performance, but does not tell Arthur, who finds out the night of the show when he happens to see a flyer for the show in a diner. Arthur suddenly collapses in pain, and finds out he has cancer, which he hides from Bart. The following morning, Bart antagonizes Arthur, who smashes a plate over his head. At church, Shannon sees the blood and presses Bart to open up, but he responds by breaking up with her, and leaves town to seek his fortune in the city.