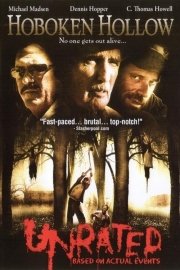 Watch Hoboken Hollow
NR
2007
1 hr 38 min
Hoboken Hollow is a horror movie from 2006 that depicts the story of a young man named Trevor who is searching for a job to support his family. He comes across a job advertisement that promises good pay and lodging at a remote Texas ranch. Desperate for work, Trevor takes the job and soon realizes that he has entered a dark and twisted world.
The ranch is run by a family called the Lunds, who seem to be kind and hospitable at first. However, as time passes, Trevor discovers that the Lunds are not what they seem. Instead, they are a group of sadistic psychopaths who enjoy torturing and killing their employees for fun. The ranch is a front for their human trafficking and organ harvesting business.
As Trevor tries to escape from the ranch, he encounters other workers who have been trapped in this Hellish world. They include a woman named Beth, who was brought to the ranch against her will, and a former soldier named Big Daddy, who is determined to take down the Lunds and their operation.
Hoboken Hollow is a well-crafted horror movie that keeps the viewers on the edge of their seats. The movie delves deep into the twisted mindset of the Lunds and their motives, which makes it even scarier. The suspense is built up gradually, and the climax is both shocking and satisfying.
The actors deliver great performances that add to the intensity of the movie. Jason Connery, who plays Trevor, is convincing in his role as an innocent man trapped in a nightmare. C. Thomas Howell, who plays Big Daddy, channels his inner badass and delivers some memorable one-liners. Mark Holton, who plays the sadistic patriarch of the Lund family, is menacing and creepy.
The cinematography is excellent, and the movie makes great use of the remote Texas location. The setting adds to the isolation and helplessness of the characters, making the viewers feel like they are trapped in this world with them.
One of the strengths of Hoboken Hollow is its ability to showcase the depravity of the Lunds without being overly graphic or gory. The movie relies more on atmosphere and suspense than on blood and guts, which is refreshing in the horror genre.
Overall, Hoboken Hollow is a highly recommended horror movie that will keep you on the edge of your seat. It is a well-crafted story with great performances, suspenseful atmosphere, and a satisfying conclusion. It may not be for the faint-hearted, but for horror fans, it is a must-watch.