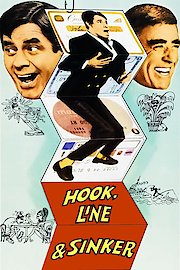 Watch Hook, Line & Sinker
"Jerry's Living It Up Like Crazy!"
Passed
1969
1 hr 32 min
Hook, Line & Sinker is a 1969 comedy film directed by George Marshall and starring Jerry Lewis, Peter Lawford, and Anne Francis. The film centers around Peter Ingersoll (Jerry Lewis), a banker who loves his job and his wife Julie (Anne Francis), but hates fishing. One day, he meets a wealthy fisherman named Commander Vincent (Peter Lawford) who offers to take him fishing and help him catch the biggest fish of his life. However, Peter soon learns that Commander Vincent has ulterior motives and is trying to swindle him out of all his money.
The film begins with Peter Ingersoll enjoying a boring day at the bank. He loves his job and is happy to spend his days counting money, but his assistant tells him that he needs to take a vacation. Peter is hesitant, but when he meets Commander Vincent, a wealthy fisherman who seems to be living the dream, he decides to give it a try. Vincent offers to take Peter out to sea and teach him how to catch a big fish, and Peter agrees.
However, as soon as they get out on the water, things start to go wrong. Vincent's boat is old and decrepit, his crew is lazy and unprofessional, and Vincent himself is constantly berating Peter and trying to intimidate him. Peter is determined to catch a fish, but he soon realizes that it's not going to be easy. Meanwhile, his wife Julie is worried about him and starts to investigate Vincent, suspecting that he might be a con artist.
As the days go on, Peter and Vincent's relationship becomes more and more strained. Vincent is constantly trying to pressure Peter into investing all his money in a shady business deal, and Peter is getting more and more frustrated with the whole situation. To make matters worse, Julie has discovered that Vincent is a criminal who is wanted by the police for fraud and embezzlement. She tries to warn Peter, but he refuses to believe her.
Finally, things come to a head when Peter catches a huge fish and Vincent tries to steal it from him. Peter fights back, and in the chaos that ensues, Vincent falls overboard and is presumed dead. Peter and Julie think they're in the clear, but Vincent is actually alive and well, and he's out for revenge.
The rest of the film is a madcap chase as Vincent tries to get his hands on Peter's money and Peter and Julie try to evade him. Along the way, they meet a colorful cast of characters, including a femme fatale who tries to seduce Peter, a group of hippies who help them hide out, and a lovable dog who becomes their loyal companion. In the end, Peter and Julie learn to stand up for themselves and each other, and Vincent gets his comeuppance in a hilarious and satisfying finale.
Overall, Hook, Line & Sinker is a fun and lighthearted comedy that showcases Jerry Lewis at his best. The film has all the hallmarks of a classic Lewis production, with its wacky plot, zany characters, and over-the-top humor. It's also a great showcase for Peter Lawford, who plays an excellent foil to Lewis's bumbling everyman. Anne Francis is also a standout, bringing a much-needed dose of intelligence and wit to her role as Julie. All in all, Hook, Line & Sinker is a delightful romp that's sure to put a smile on your face.
Hook, Line & Sinker is a 1969 comedy with a runtime of 1 hour and 32 minutes. It has received moderate reviews from critics and viewers, who have given it an IMDb score of 5.3.