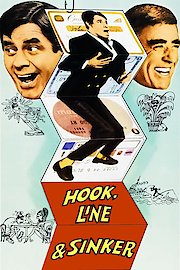 Watch Hook, Line & Sinker
"Jerry's Living It Up Like Crazy!"
Passed
1969
1 hr 32 min
Hook, Line & Sinker is a 1969 Jerry Lewis comedy. Peter Lawford and Anne Francis also star in the movie. An interested note about the movie for film buffs is that it is the last movie directed by George Marshall. Marshall's film career started in 1915. The plot centers around the main character Peter Ingersoll (Lewis). Peter is about to have an operation at a hospital in Chile. This sets the stage for him to recount how his unusual case came about. Flash back to his earlier life in California as an insurance salesman. He is told the he is dying from a terminal illness. His doctor encourages him to fake his death and collect $150,000 from a life insurance policy.