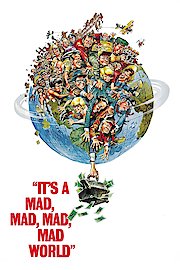 Watch It's a Mad, Mad, Mad, Mad World
"The comedy event of the century, In glorious 70mm!"
G
1963
2 hr 39 min
59
It's a Mad, Mad, Mad, Mad World is a 1963 comedy film directed by Stanley Kramer and featuring an all-star cast including Spencer Tracy, Milton Berle, Ethel Merman, Mickey Rooney, Sid Caesar, and many others. The plot revolves around a group of strangers who each discover a clue to the location of a buried treasure worth $350,000. The film follows their madcap adventure as they chase after the treasure, encountering obstacles and getting into all sorts of hilarious situations along the way. The film opens with a car traveling on a winding mountain road, driven by a man named Smiler Grogan (Jimmy Durante). As he speeds along, the car careens off the road and crashes, and Smiler tells the people who come to his aid the story of how he just got out of prison and is searching for the loot from a bank robbery he committed years ago. He tells them that the money is buried in a park under a big "W", but he dies before he can reveal any more information. The people who witness Smiler's accident include a dentist named Melville Crump (Sid Caesar), a hardware store owner named Lennie Pike (Jonathan Winters), a driving instructor named J. Russell Finch (Milton Berle), and a cab driver named Marvin "Schnapps" Acme (Buddy Hackett). They all set off in pursuit of the treasure, meeting other characters along the way including a mother-daughter duo (Ethel Merman and Mickey Rooney) and a wealthy tycoon named J. Algernon Hawthorne (Spencer Tracy). As the group travels across Southern California, they encounter various obstacles such as a burning gas station, a collapsing bridge, and a pair of police officers (played by Peter Falk and Eddie "Rochester" Anderson) who are determined to catch them. Along the way, they enlist the help of various other characters, such as a group of firefighters and a group of Boy Scouts, and they also try to outsmart each other in their race to get to the treasure first. Throughout the film, there are many comedic set pieces and physical gags, such as a car chase that goes through an airport, a ladder that gets elongated until it goes through a window, and some classic pie-in-the-face humor. The movie also features a number of musical interludes, with various characters breaking out into song at different points in the story. As the group gets closer to the location of the treasure, tensions rise and alliances shift. At the climax of the film, all of the characters meet at the site of the buried money and chaos ensues. There are several surprises and twists in the final scenes, and the story wraps up in a comical and satisfying way. Overall, It's a Mad, Mad, Mad, Mad World is a classic comedy that has stood the test of time. With its talented cast, zany humor, and entertaining storyline, it remains a beloved favorite of many film fans. Whether you're a fan of slapstick comedy, classic Hollywood movies, or just enjoy a good laugh, this film is definitely worth watching.