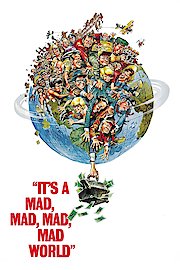 Watch It's a Mad, Mad, Mad, Mad World
"The comedy event of the century, In glorious 70mm!"
G
1963
2 hr 39 min
59
A frantic comedy with an all star cast including Spencer Tracy, Milton Berle, Sid Caesar, Buddy Hackett, Ethel Merman, Mickey Rooney, Phil Silvers, Terry-Thomas and Jonathan Winters. "Smiler" Grogan (Jimmy Durante) has just been released from prison after committing a robbing 15 years earlier, the cash from the job was never recovered. Driving recklessly he dangerously passes a number of cars before his car flies off of a cliff. The drivers stop and climb down to try and save him. Dentist Melville Crump (Caesar), furniture mover Lennie Pike (Winters), "Dingy" Bell and "Benjy" Benjamin (Rooney & Hackett) and meek businessman J. Russell Finch (Berle) arrive just before he dies, but not before he can tell them about the $350,000 in cash buried under a big 'W' in Santa Rosita State Park. The drivers can't decide what to do with the valuable information they've just obtained so an all out race begins, winner takes all to whoever finds the treasure first! However, they must contend with Captain T. G. Culpepper (Tracy), of the Santa Rosita PD, who has been obsessed with the case for the last 15 years with the hopes of solving it and retiring with honors.