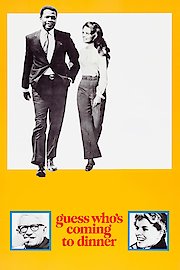 Watch Guess Who's Coming to Dinner
"A love story of today."
Approved
1967
1 hr 48 min
63
Guess Who's Coming to Dinner is a classic comedy-drama from 1967 that focuses on race, love, and family dynamics in America's changing landscape. The film boasts an impressive ensemble cast, including legends Spencer Tracy, Sidney Poitier, and Katharine Hepburn, who deliver nuanced and heartfelt performances that still resonate with audiences today.
The film centers on the story of Joanna Drayton (played by Katharine Houghton), a young white woman who returns from Hawaii to her San Francisco home with her fiancé, John Prentice (played by Sidney Poitier), an African-American doctor. Joanna's parents, Matt (Spencer Tracy) and Christina (Katharine Hepburn), are surprised and initially uncomfortable with the idea of their daughter marrying a black man, despite their progressive views and relationship with black neighbors. The film shows us the different opinions on this controversial issue through heated dialogues and confrontational arguments.
Matt and Christina's reaction to the news initially seems typical of society at the time the movie was released, with racial prejudices and preconceptions prompting fear and confusion. However, as the story unfolds, it becomes clear that Matt and Christina are forced to confront their own deep-rooted prejudices and biases before they can come to terms with their daughter's decision. In the process, they reach an understanding with each other, with the film's message of tolerance and acceptance shining brightly through.
The film is notable for its honest and frank portrayal of race in America during the mid-1960s. It explores the various facets of race relations, including interracial dating, political and social stances on race, and prejudice in modern society. The film presents Poitier's character as someone who has broken through the color barrier to become successful in his field, a rarity at the time. The film is also notable for featuring a prominent interracial relationship, something rarely seen on-screen in 1967.
Most of the movie's tension arises from the conversation between the characters, as they slowly begin to share their thoughts and feelings about race, love, and the future of their family. Each of the characters displays their own prejudices and biases, which are rooted in their personal experiences and histories. However, their dialogue and debates center on the film's central message of love and empathy.
The acting is pitch-perfect, with Tracy, Hepburn, and Poitier all delivering powerhouse performances that balance humor, pathos, and intellect in equal measure. Tracy's performance, in particular, is a delight to watch, as he navigates the complex character of Matt with great skill and nuance. Hepburn's portrayal of the warm and caring Christina is likewise outstanding, as she provides the emotional anchor for the film's central message.
Directed by Stanley Kramer, the film is well-crafted throughout, with a script by William Rose that is witty, engaging, and provocative. The color palette is warm and inviting, with a subtly increasing intensity as the film progresses, reflecting the growing passion and urgency of the characters' conversations. The pacing is steady, with long stretches of dialogue that allow the actors to shine and the audience to become fully engaged with what's happening on-screen. The film also features a memorable and catchy score by Frank DeVol, which perfectly accentuates the energy and tone of the story.
In summation, Guess Who's Coming to Dinner is a terrific example of classic cinema at its finest. It is a heartfelt, honest, and engaging film that tackles important social issues with grace and humor. The cast and crew deliver outstanding performances that remain deeply affecting and thought-provoking even today. The film's message of tolerance, understanding, and love is as relevant as ever, and makes this a movie that everyone should see at least once.
Guess Who's Coming to Dinner is a 1967 drama with a runtime of 1 hour and 48 minutes. It has received moderate reviews from critics and viewers, who have given it an IMDb score of 7.8 and a MetaScore of 63.