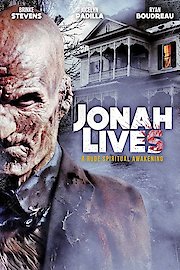 Watch Jonah Lives
"Sometimes you can't leave your past behind"
NR
2015
1 hr 35 min
Jonah Lives is a horror movie from 2015, directed by Luis Carvalho. Despite its title, it is not a retelling of the religious story of Jonah and the whale. Rather, it is a thriller about a group of young friends who accidentally awaken a vengeful ghost. The main character of the movie is David, played by Brinke Stevens. He is a retired rock musician who still lives the rockstar lifestyle, complete with drugs and unsavory companions. However, he is haunted by guilt from his past, specifically a girl he wronged many years ago. He is frequently visited by her ghost, but he refuses to acknowledge her or his responsibility for her death.
David is invited by his old friend Max, played by Ryan Boudreau, to a party at an abandoned house that was once a funeral parlor. Max has recently purchased the property and intends to renovate it, but he wants to have one last party before he begins the work. David reluctantly agrees to come, expecting a night of debauchery and drugs.
At the party, David meets Max's girlfriend Jess, played by Jocelyn Padilla. She is a quiet, reserved girl who immediately catches David's attention. However, he also notices that she seems to be very terrified of something. He soon learns that Max has brought a Ouija board to the party, and they have been using it to contact the spirit world.
David, Max, and their friends continue to play with the Ouija board, despite Jess's protests. Eventually, they awaken the ghost of Jonah, a man who was killed in the funeral parlor years ago. Jonah is a vengeful spirit who seeks revenge on those who wronged him, and he begins to torment the group of friends.
From this point on, the movie becomes a tense thriller as David and Max attempt to get rid of the vengeful spirit before he kills them all. However, their efforts are hampered by their own inner demons: David's guilt and Max's drug addiction.
The movie is very atmospheric and uses lighting and sound effects to create a creepy, foreboding atmosphere. The performances are solid, with Brinke Stevens giving a standout portrayal of a man haunted by his past. Jocelyn Padilla also shines as the terrified Jess, and Ryan Boudreau gives a nuanced portrayal of a man struggling with addiction.
Overall, Jonah Lives is a solid horror movie that is sure to keep viewers on the edge of their seats. It explores themes of guilt, addiction, and revenge, making it more than just a simple ghost story. While it may not be the most original horror movie out there, it is still a worthwhile watch for fans of the genre.
Jonah Lives is a 2015 drama with a runtime of 1 hour and 35 minutes. It has received poor reviews from critics and viewers, who have given it an IMDb score of 2.5.