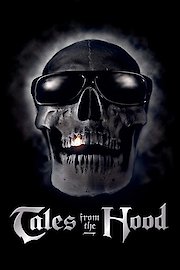 Watch Tales from the Hood
"Chill or be Chilled."
R
1995
1 hr 38 min
The horror anthology film Tales from the Hood was released in 1995 and directed by Rusty Cundieff, who also co-wrote the screenplay with Darin Scott. The film is a blend of horror, comedy, and social commentary that features four interconnected stories that explore issues of racism, police brutality, and gang violence within the African American community.
The framing device for the anthology is the character of Mr. Simms (Clarence Williams III), a mortician who welcomes a trio of gang members into his funeral home on a stormy night. As he prepares their friend's body for burial, he tells them four tales, each one more disturbing than the last.
The first story, "Rogue Cop Revelation," stars Corbin Bernsen as a racist police officer who seeks to cover up his violent tendencies by having an experimental procedure done that allows him to transfer his consciousness into a robotic body that he can control from afar. However, his plan backfires when he discovers that his new form is just as corrupt as his old one.
In the second story, "Boys Do Get Bruised," a young boy named Walter (Brandon Hammond) is haunted by a terrifying straw man that he believes is coming to life to attack him. His mother dismisses his fears as childish, but a concerned teacher (Rusty Cundieff) investigates and discovers that there may be more to Walter's terror than meets the eye.
"KKK Comeuppance" features Joe Torry as Duke Metger, a former Klansman who is seeking to redeem himself by running for political office as an advocate for African American rights. However, when he returns to his former Klan headquarters to retrieve incriminating evidence against his former cohorts, he discovers that they have an unexpected plan in store for him.
The final story, "Hard-core Convert," follows a trio of gang members as they rob a funeral home in search of drugs. However, they soon discover that the mortician (Anthony Griffith) is not what he seems and is instead a powerful voodoo priest who has the ability to raise the dead.
Throughout the film, Mr. Simms serves as a guide and commentator on the stories, inserting cutting remarks and cynical observations about the nature of society and the characters' behavior. As the stories progress, the line between reality and horror becomes increasingly blurred, culminating in a shocking and surreal finale that ties the film's themes together in a stunning climax.
Tales from the Hood is a unique and provocative horror film that uses the genre to explore important social issues facing the African American community. With its mix of scares, satire, and social commentary, the film is a standout example of how horror can be used to provoke thought and conversation about real-world issues.
Tales from the Hood is a 1995 horror movie with a runtime of 1 hour and 38 minutes. It has received mostly positive reviews from critics and viewers, who have given it an IMDb score of 6.5.