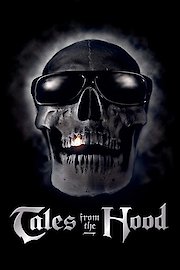 Watch Tales from the Hood
"Chill or be Chilled"
R
1995
1 hr 38 min
The movie begins with three young drug dealers Stack, Ball and Bulldog. They have just murdered another drug dealer in South Central Los Angeles to steal his drugs. They did not realize that he did not have the drugs on him and they now hear that a mortuary owner has them. When they arrive at the mortuary, Mr. Simms invites them in. He tells them that he found the drugs and was keeping them in the mortuary until someone came to claim them. The drug dealers are getting highly upset and remind him that they have a gun. He tells them to just follow him and he will bring them to where the drugs are kept. As they walk past caskets, Mr. Simms starts telling them the story behind the people in the caskets and there are four stories in all. The first casket holds a police officer by the name of Clarence Smith. On the first night on the job, Clarence witnessed police brutality. Unable to break the code of silence, his guilt starts to take over and within a year he quits his job and becomes a alcoholic. It is when the man he saw murdered comes back to him that the horror begins. The second story is about a young boy by the name of Walter and when he starts become bruised on a daily basis he claims that monsters do it. It is how he learns to get rid of the monsters is what makes Walter so unique. The third casket contains a racist southern senator by the name of Duke Metger who owns an old slave plantation. Upon noticing a painting of a hoodoo witch and hers dolls, he makes racial slurs, until her dolls get even. The final casket contains Crazy K, but Mr. Simms doesn't talk about his death but his life instead. That is when Mr. Simms tells them he has one more story, about them.