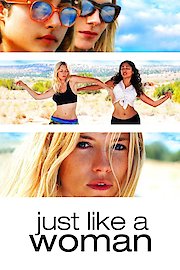 Watch Just Like a Woman
"two friends - one journey - no limits"
R
2013
1 hr 27 min
39
Just Like A Woman is about two ladies that were mere acquaintances that shared one similarity. They both were involved in unhappy marriages. Mona played by Golshifteh Farahani is a twenty six year old immigrant from North Africa and Marilyn played by Sienna Miller 1s a 29 year old receptionist that happens to love belly dancing. After getting fired from her job, Marilyn has an opportunity to take a dancing job in Sante Fe. Since she and Mona both are unhappily married, she invites her to go to Sante Fe with her where they begin to start a new life. The acquaintances turn into a close relationship that is full of calamity and excitement. When arriving at Sante Fe they learn that there is an opening for two dancers instead of one. Marilyn teaches Mona how to dance to support herself. The girls dancing in a after hours night club came with many obstacles. After they arrive, they learn that Marilyn's husband reports her missing to the police. Their friendship, courage, and strength was put to test and their future was merely something that they were both together trying to find.