Watch Kissing Jessica Stein
"When it comes to love, sometimes she just can't think straight."
The movie Kissing Jessica Stein is a funny, engaging, and romantic drama about modern day relationships. Jennifer Westfield, who also co-write the movie, plays the titular character of Jessica Stein, who is at a crossroads in life as her romantic life is nowhere to be found while everyone around her is either getting engaged or pregnant and moving forward with their lives.
Jessica decides to take an unexpected break from men and answers a personal ad from another woman, Helen, played by Heather Juergensen, who was the co-writer of the film along with Westfield. Although Jessica has been steadfastly straight her entire life, she finds herself inexplicably drawn to Helen. Jessica and Helen soon embark on a slow-paced relationship that is unexpected and different from anything they have experienced before.
The relationship begins to progress and become increasingly serious, which while exciting to Helen, begins to scare Jessica. Jessica is nervous to take the relationship to the next level and especially nervous to tell her family and friends that she is in a romantic relationship with a woman. Ultimately, Jessica comes clean with everybody about her relationship with Helen, and much to her surprise is fully supported by her friends and family.
As the relationship continues, Jessica and Helen move in together, but while things appear to be perfect, the heat and passion of the relationship begin to fade, and Jessica feels only platonic-friend feelings for Helen, much to Helen's dismay. Jessica is still happy with what they have together, but Helen is unwilling to settle for a relationship that lacks passion and romance.
In the end, Jessica has come full circle and realizes that she is only attracted to men. However, she still is able to continue a wonderful friendship with Helen. Along the way, there is a lot of humor, awkwardness, and great insight into relationships, which makes Kissing Jessica Stein a worthwhile movie.
|
2002
|
1 hr 38 min
|

/

10
Cast

Studio

Director

Charles Herman-Wurmfeld, Charles Herman-Wurmfield

Language

English
SUBSCRIPTION
RENT / BUY
CABLE
Kissing Jessica Stein News
Jon Hamm & Jennifer Westfeldt Robbed in London
June 26, 2012 @ 10:38 pm PST
|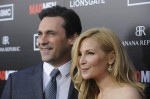 Who would dare rob Don Draper? Only a Brit who probably hasn't watched much "Mad Men," I would assume. "Mad Men" star Jon Hamm and his girlfriend Jennifer Westfeldt had a rough night in London when a thief robbed them. Apparently the couple was out to dinner when a thief made off with Westfeldt's purse. Before they could recover it, the thief found the couple's hotel room key in the purse and burglarized their room as well.
Read More


Watch Kissing Jessica Stein Trailer

Kissing Jessica Stein Official Trailer!
|
2:12
Watch Kissing Jessica Stein Online - Watch online anytime anywhere: Stream, Download, Buy, Rent
Kissing Jessica Stein is currently available to watch and stream, download, buy, rent on demand at Amazon Prime, Amazon, Vudu, FandangoNow, iTunes, YouTube VOD online.