Watch Singles
"Love is a game. Easy to start. Hard to finish."
Singles focuses on a group of 20-somethings who all live in the same apartment building in Seattle, Washington. With music from bands like Soundgarden, Pearl Jam, and the Smashing Pumpkins, the movie weaves the music of the grunge era throughout the lives and loves of these young people. The movie also makes great use of the setting, Seattle in the early 1990s, with lots of nods to the music and lifestyle of the time.
The plot is mainly focused on Linda and Steve, a young couple unsure of their direction, Janet, a barista suffering from unrequited love for a local rock star, Cliff, the local rock star, and Debbie, a girl who is desperately searching for Mr. Right. Cliff's band, Citizen Dick, is featured prominently in the movie, with viewers seeing both recording sessions and concerts of the fictitious band.
Throughout the movie this group of friends suffers through many setbacks and emotional scenes, but come out on the other side still friends and still moving forward.
|
1992
|
1 hr 39 min
|

/

10
Cast

Studio

Director

Cameron Crowe

Language

English
FREE
SUBSCRIPTION
RENT / BUY
Singles News
Elton John Intros New Cameron Crowe Music Doc 'The Union' at Tribeca
April 21, 2011 @ 2:20 pm PST
|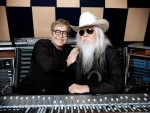 Cameron Crowe did more for Elton John with his "Tiny Dancer" homage in "Almost Famous" than a hundred Rolling Stone interviews ever could.
Now he's set to do it again with 'The Union,' a new documentary which opened up the 10th annual Tribeca Film Festival last night.
The festival kicked off with a free outdoor event outside near Ground Zero in lower Manhattan, which was meant to remind the audience of the original intention of the fest - uniting New Yorkers after 9/11, according to The Hollywood Reporter.
Read More


Watch Singles Trailer

Singles (1992) - Original Trailer
|
1:58
Watch Singles Online - Watch online anytime anywhere: Stream, Download, Buy, Rent
Singles is currently available to watch free on Vudu Free and stream, download, buy, rent on demand at Filmstruck, Amazon, Vudu, Google Play, FandangoNow, iTunes, YouTube VOD online.