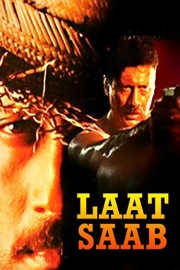 Watch Laat Saab
NR
1992
2 hr 6 min
Laat Saab is a Bollywood drama film that was released in 1992. It stars Ishrat Ali, Govardhan Asrani, and Sharokh Bharucha in lead roles. The movie was directed by Sunil Agnihotri and produced by Salim. The film is set in Mumbai and revolves around the life of a honest police officer and his struggles while dealing with corruption in the police force.
The story of Laat Saab follows the life of Inspector Prakash (played by Ishrat Ali), who is a fearless and honest police officer working in Mumbai. Prakash is very dedicated to his job and is determined to eradicate crime and corruption in the city. He is known for his tough and no-nonsense approach towards criminals and often resorts to violence to get things done. However, his actions come to the attention of a local gangster named Munna (played by Asrani), who sees him as a threat to his illegal activities.
As Prakash investigates a series of crimes committed by Munna and his gang, he realizes that he is not only up against them but also against corrupt police officials who are in cahoots with the criminals. He soon finds himself at odds with senior police officers who are unwilling to support his honest ways of working. Munna, on the other hand, tries to get Prakash transferred to another police station and the two often engage in a battle of wits.
Prakash meets and falls in love with Vrinda (played by Bharucha), a niece of a wealthy businessman. The two start a relationship, but their love is tested when Munna and his gang kidnap Vrinda. Prakash goes on a mission to save Vrinda, and in the process, he also finds evidence that implicates Munna in a number of criminal activities.
Laat Saab is a gripping film that is based on the life of an honest police officer who is not afraid to take on criminals and corrupt officials. It highlights the dangers and hurdles that police officials face when trying to maintain law and order in a city that is infested with crime and corruption. The movie's action sequences are realistic and intense, and the performances by the lead actors are noteworthy.
Asrani, who is known for his comic roles, delivers a great performance as Munna, the ruthless gangster. His performance is a departure from his usual comic roles, and he pulls it off convincingly. Bharucha, who plays the love interest of Prakash, also delivers a good performance, and her chemistry with Ishrat Ali is effortless.
Ishrat Ali, who plays the lead character of Inspector Prakash, is outstanding in the film. He portrays the character with great intensity and conviction. His action sequences are well-choreographed, and he shows great screen presence throughout the film. His character is the backbone of the film, and he carries the movie on his shoulders with ease.
The music of the film, composed by Raamlaxman, is another highlight. The songs, especially "Dil Ki Kalam Se," are melodious and memorable. The film's cinematography is also noteworthy, with the camera work effectively capturing the mood and atmosphere of the city.
Overall, Laat Saab is a must-watch film for fans of action and drama genres. It is a well-made movie that is sure to keep the audience engaged throughout. The film's message about the importance of honesty and integrity in the police force is also a relevant one, even today. Laat Saab is a classic Bollywood film that should be seen by movie lovers everywhere.