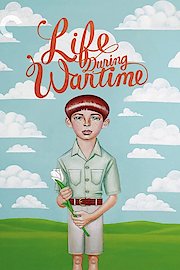 Watch Life During Wartime
R
2009
1 hr 36 min
69
Life During Wartime, released in 2009, is a uniquely crafted movie. Directed by the iconic filmmaker Todd Solondz, this film is a satire on modern social and family life. Life During Wartime is a sequel to the director's previous critically acclaimed film Happiness. Shirley Henderson, Allison Janney, and Ally Sheedy portray the main characters in the movie. This star-studded cast, along with the movie's extraordinary storyline, has made it widely known and appreciated by critics and viewers alike.
The movie explores the lives of three sisters who are struggling to find their place in the world. Amidst financial woes and troubled relationships, they attempt to reconcile with past traumas and move towards a better future. The movie primarily takes place against the backdrop of America's ongoing war in Iraq. The director uses this as a metaphor to highlight the internal conflicts faced by the characters.
The film does not shy away from addressing the issues and complexities of adult life. It touches on themes of loss, guilt, love, and forgiveness. It takes a satirical approach to examine how people deal with their past, present, and future. Life During Wartime is not for the faint-hearted - it is an honest and raw portrayal of the human condition.
Shirley Henderson plays Joy, the eldest of three sisters. Joy confronts the challenge of raising two young sons while attempting to provide for the family. She is haunted by the ghost of her ex-husband, who committed suicide after being released from prison for child molestation. Joy's character brings an emotional depth to the movie as she struggles with the guilt and shame of her past.
Allison Janney portrays Trish, the middle sister, who is attempting to start over after her husband was convicted of pedophilia. Trish is still trying to come to terms with the loss of her former life and the stability that came with it. Through her character, the movie explores the complexities of forgiveness and acceptance.
Ally Sheedy plays Helen, the youngest of three sisters. She is trying to build a relationship with her father, Bill (Ciaran Hinds), after he was released from prison. Bill is a pedophile and has made attempts to reach out to his daughters after serving his time. Through Helen's character, the movie shows how complex and conflicting these emotions can be.
Todd Solondz uses his directing style to create a unique cinematic experience. Solondz manipulates the narrative to offer a fragmented perspective of the characters' stories. The director's use of dry humor, irony, and satire helps to create a movie that is both humorous and poignant. The narrative moves in circles, with different characters having different perspectives on the same event.
Life During Wartime was widely praised by critics for its unique style, clever writing, and impressive performances. The film stands out as a satire that critiques modern society while having sympathy for its characters. It portrays complex and disturbing themes that some viewers may find unsettling.
In conclusion, Life During Wartime is a powerful and thought-provoking movie. It explores the complexities of the human condition in a way that is both humorous and heartbreaking. The film's approach to themes of loss, guilt, love, and forgiveness is exceptional. It is a movie that will stay with viewers long after they have finished watching it.
Life During Wartime is a 2009 comedy with a runtime of 1 hour and 36 minutes. It has received mostly positive reviews from critics and viewers, who have given it an IMDb score of 6.4 and a MetaScore of 69.