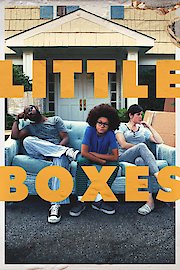 Watch Little Boxes
NR
2017
1 hr 24 min
52
Little Boxes is a drama movie that revolves around a family of three, who moved from California to a small and tight-knit community in Washington. The movie is directed by Rob Meyer while the screenplay is written by Annie J. Howell. The main characters are Gina, played by Melanie Lynskey, Mack, played by Nelsan Ellis, and Clark, played by Armani Jackson. Gina is a professional writer and has recently quit her job to move to a new town with her family. Mack is a music professor and Clark is their 12-year-old son who is accustomed to city life and has to make a tough transition to a small town.
The movie follows the family as they try to adjust to their new environment, and the challenges they face as they try to assimilate into a new culture. They are the only African-American family in the community, which is predominantly white. Clark is also the only black student in his new school and often faces racial discrimination, bullying and micro-aggressions.
As the family's new suburban neighbors try to be friendly, they also reveal their ignorance and prejudice towards the family's blackness. For example, they constantly make assumptions about the family's taste in music, fashion and food, as well as the fact that they know nothing about African American culture.
Despite the challenges they face, Gina, Mack and Clark are determined to make their new life work, and gradually they develop relationships with the community. Gina starts to build up her freelance writing career, Mack falls in love with a local woman, and Clark makes a few friends – both black and white – and discovers his love for classical music.
The overarching theme of the movie is the essence of race and identity in America. It is a poignant portrayal of how subconsciously prejudiced people can be, as well as an exploration of the self-doubt and the necessity for belonging that comes with being a minority. The movie ends on a hopeful note, with the family finding their place in the community and discovering the power of community and resilience.
Melanie Lynskey delivers an excellent performance as Gina, portraying her vulnerability and strength as a mother and a woman with incredible depth. Nelsan Ellis also shines as Mack, effortlessly bringing to life the character's passion for music and genuine love for his family. Armani Jackson does a wonderful job bringing Clark to life, depicting his struggles with growing up and his need to fit in.
The scenery and cinematography of the film are also noteworthy with stunning visuals that capture the beauty of the small town, creating a cozy and warm atmosphere that is not without its flaws of course. The soundtrack comprises an eclectic mix of music, from classical to hip hop, that expose the various soundtracks that define American experience.
Despite its running time of 84 minutes, "Little Boxes" is a lovely movie that presents a heartfelt slice-of-life narrative. It is a unique movie about race, identity, and belonging that is both poignant and empowering. The film is a reminder that no matter how different we may seem, humanity is something we all share. Little Boxes is a film that deserves more attention, and it has a memorable storyline that will attract audiences.
Little Boxes is a 2017 comedy with a runtime of 1 hour and 24 minutes. It has received moderate reviews from critics and viewers, who have given it an IMDb score of 5.9 and a MetaScore of 52.