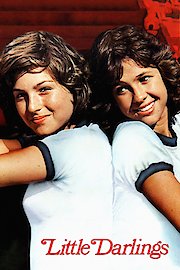 Watch Little Darlings
"Don't let the title fool you."
R
1980
1 hr 34 min
45
Little Darlings is a 1980 drama/comedy film directed by Ronald F. Maxwell, starring Tatum O'Neal, Kristy McNichol, Armand Assante, and Matt Dillon. The film starts out in Atlanta where a group of girls meet up to catch a bus to summer camp. The girls come from all different kinds of backgrounds. Two girls, who are completely opposites, decide to make a bet. The bet is that whoever loses their virginity before the end of camp wins. Ferris, played by Tatum O'Neal, comes from a very wealthy background and is very spoiled. Angel, played by Kristy McNichol, on the other hand, comes from a low-income background and lives with her single mother. Angel has grown up tough and independent, and she is one that would never show her real feelings. The two girls begin to start hunting for the guys who will most likely make them the winner. Ferris begins to focus on one of the camp counselors, Gary, played by Armand Assante. Angel targets Randy, played by Matt Dillon, from the neighboring boys camp. And the rest of the girls in camp decide to make two teams, a Ferris team and an Angel team. They then begin to start placing bets on who will win. Ferris completely falls into the romance of it all, not thinking of the downside that Gary is a lot older. When she tries to seduce him, he realizes it is a crush and tries to let her down easy. Knowing the bet is on the line, she lies and tells everyone she made love with him. Meanwhile Angel meets Randy at the boathouse and is thrown by all the unexpected feelings that are surfacing, good and bad. With the bet in the back of her mind, she goes through with it. Both have to face the girls with what they have done, but also with the possibility of getting Gary in trouble. In the end, the bet actually brings the opposites closer.