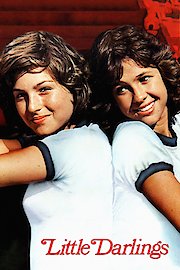 Watch Little Darlings
"Don't let the title fool you."
R
1980
1 hr 34 min
45
In the summer of 1980, the coming-of-age comedy-drama film Little Darlings was released, starring Tatum O'Neal and Kristy McNichol as two teenage girls attending a summer camp. The film explores the relationships and experiences of the girls as they navigate the ups and downs of summer camp life. The movie opens with Ferris Whitney (O'Neal) arriving at summer camp in a fancy car driven by her chauffeur. She has all the latest designer clothes and is clearly from a wealthy background. Meanwhile, Angel Bright (McNichol) arrives on a bus, carrying all her belongings in a duffel bag. She is from a poorer background but is feisty and determined to make the most of her summer camp experience. Ferris and Angel are assigned to bunk together, and they quickly discover that they have little in common. Ferris is snobbish and looks down on Angel, while Angel is unimpressed by Ferris's privileged lifestyle. The two girls engage in a series of pranks and challenges, trying to outdo each other in various competitions. As the summer goes on, the girls start to form friendships with other campers and begin to understand each other better. Ferris meets Randy (Armand Assante), a counselor at the boys' camp across the lake, and enters into a sexual relationship with him. Meanwhile, Angel becomes friends with Cinder (Matt Dillon), a rough-around-the-edges camper who initially clashes with her but eventually becomes her ally. The movie explores themes of teenage sexuality, female friendships, and class differences. Ferris and Angel's contrasting backgrounds lead to conflicts, but ultimately they realize that they have more in common than they thought. While the film includes some lighthearted moments, it also deals with serious issues, such as teenage pregnancy. The performances by O'Neal, McNichol, and Assante are praised by critics, with O'Neal and McNichol in particular delivering strong performances as the two leads. The film also features a strong supporting cast, including Dillon and Krista Errickson as another camper who befriends Ferris and Angel. Little Darlings was directed by Ronald F. Maxwell and written by Kimi Peck and Dalene Young. The film received mixed reviews upon its release, but has since gained a cult following and is remembered as a nostalgic depiction of teenage life in the early 1980s. It is notable for its depiction of female sexuality and relationships, with the girls taking control of their own desires and experiences. Overall, Little Darlings is a charming and poignant film about the joys and challenges of growing up. It captures the spirit of summer camp life and the complexities of teenage relationships, while also tackling serious issues with sensitivity and nuance. The film remains a beloved classic of the 1980s and a testament to the talent of its young stars.