Watch The Truman Show
"On the air. Unaware."
Truman Burbank is an insurance salesman who unwittingly goes about his daily routine until discovering that things aren't always what they seem. On his way to work, a radio broadcast is interrupted by the dialogue of two men describing Truman's exact movements on the road. Then he catches a glimpse of what appears to be a stage set inside a neighboring building. He even sees his father, unrecognizable in disheveled hair and beard, who was supposed to be dead from an accident at sea years ago.
These events culminate in a desire to discover who he is. His aspiration to leave his current habitat spurs a breakdown, holding his wife hostage and facing many challenges in his adventure to find the truth. He discovers his childhood boat and ventures on what appears to be the open sea until reaching the end, only to discover a wall of painted scenery. He then hears the voice of Cristof, the creator of the 24-hour live TV series, The Truman Show, who offers him the choice of a lifetime.
|
1998
|
1 hr 43 min
|

/

10
Cast

Studio

Director

Peter Weir

Language

English
The Truman Show News
Jim Carrey Will Definitely Face Trial in Girlfriend's Death Suit
June 02, 2017 @ 7:33 am PST
|
Read More

Watch the Trailer for Justin Timberlake's New Thriller 'In Time'
August 08, 2011 @ 1:25 pm PST
|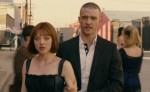 Looks like Justin Timberlake's bringing sexy back...to the future. Timberlake stars alongside Olivia Wilde and Amanda Seyfried in the futuristic new thriller "In Time." The studio released some footage from the stylish new film at ComicCon, and has just released an official promo for the film today. See it here.
Read More

Jim Carrey Goes to Court in Wrongful Death Case
June 01, 2017 @ 6:04 am PST
|
Read More

Which Major Quality Roles Has Shia LaBeouf Taken a Pass On?
July 08, 2011 @ 12:39 pm PST
|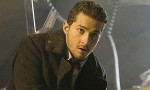 There are a couple ways I could view "Transformers: Dark Of The Moon" star Shia LaBeouf. OK, so there's one way I choose to view him - over-hyped, under-talented nitwit - but that's one of several possibilities. He recently told Details just what could've been, had his priorities in his work been a little different. For example, he was apparently offered starring roles in the Oscar-nominated "127 Hours" and "The Social Network" but passed up both because he felt that he was too big for either.
Read More


Watch The Truman Show Trailer

THE TRUMAN SHOW (1998) - Official Movie Trailer
|
2:36
Watch The Truman Show Online - Watch online anytime anywhere: Stream, Download, Buy, Rent
The Truman Show is currently available to watch and stream, download, buy, rent on demand at Netflix, Amazon, Vudu, Google Play, FandangoNow, iTunes, YouTube VOD online.