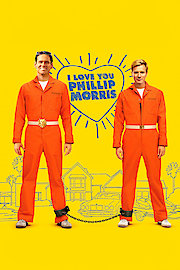 Watch I Love You Phillip Morris
"The Conman who wouldn't go straight."
R
2009
1 hr 40 min
65
I Love You Phillip Morris is a 2009 dark comedy-drama film directed by Glenn Ficarra and John Requa. The movie is based on the real-life story of Steven Russell, played by Jim Carrey, a former police officer turned con man, who falls in love with his fellow inmate, Phillip Morris, played by Ewan McGregor, while serving time in prison.
The movie opens with Steven, a pious church-going Texas police officer, admitting to his fellow colleagues that he is gay. Steven's subsequent journey of self-discovery leads him to abandon his wife and daughter and move to Miami, where he embraces his true identity and finances his new lifestyle through a series of elaborate cons.
One day Steven is arrested for fraud and sentenced to prison, where he meets Phillip Morris, a shy, soft-spoken inmate. Instantly smitten, Steven becomes determined to win Phillip's heart and devises a series of cons to keep them together.
What follows is a cat-and-mouse game of love, deception, and multi-million-dollar cons. Steven uses his charm, wit, and intelligence to manipulate his way out of prison and embezzle millions of dollars by posing as a lawyer, a chief financial officer, and a doctor. With Phillip by his side, Steven's scams become bigger and riskier, with the constant threat of getting caught always looming over them.
Despite the gravity of the crimes depicted in the movie, the directors manage to strike a balance between the dark, somber moments and the humor derived from Steven's absurd schemes. Jim Carrey's performance is a standout, showcasing his range as an actor in what is considered one of his best dramatic performances. Ewan McGregor also delivers a poignant portrayal of the shy and vulnerable Phillip Morris, adding a touch of levity to the otherwise intense story.
Leslie Mann plays Debbie, Steven's ex-wife who serves as a counterpoint to his criminal lifestyle. Her performance provides a stark contrast to Steven's relentless pursuit of pleasure and his willingness to do whatever it takes to keep his love with Phillip alive.
I Love You Phillip Morris is a movie that explores themes of love, identity, and morality in the face of adversity. The movie asks the audience to consider the limits of what we are willing to do for those we love, and it raises questions about the criminal justice system and the punishment of non-violent offenders.
Overall, I Love You Phillip Morris is a well-crafted and entertaining movie that manages to balance its dramatic and comedic elements seamlessly. The performances by the lead actors are compelling, and the storytelling is both engaging and thought-provoking. While the movie may not be suitable for all audiences due to its mature themes and subject matter, it will undoubtedly leave a lasting impression on those who choose to watch it.
I Love You Phillip Morris is a 2009 comedy with a runtime of 1 hour and 40 minutes. It has received mostly positive reviews from critics and viewers, who have given it an IMDb score of 6.6 and a MetaScore of 65.