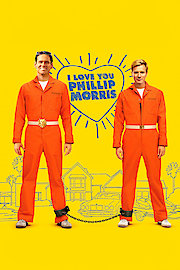 Watch I Love You Phillip Morris
"The Conman who wouldn't go straight."
R
2009
1 hr 40 min
65
A comedy drama starring Ewan McGregor and Jim Carrey, "I Love you Phillip Morris" is based on the life of a grifter named Steven Russell. The film opens with a dying Russell telling his life story. He finds his religious life in the South boring and dissatisfying one and eventually he abandons it and his wife in order to embrace his true sexuality. It is during his period of self discovery that he begins swindling people in order to make money. When Russell is caught he is sent to prison and his AIDS infected lover on the outside dies. During this first of his many prison stays Russell meets Phillip Morris, another prisoner who has been arrested for not turning in a rental car. Russell falls in love with Morris and when Morris is moved to another prison, Russell finds a way to follow him there. He promises to get Morris out of prison, using his former experience as a con man to do so. Once he's released himself, Russell poses as Morris' lawyer and gets his new love out of jail. Further cons land him in a high position in a wealthy company for which he is not qualified for. He lands the job and begins embezzling money from the company, unbeknownst to Morris. Russell is arrested and Morris is taken to jail as an accomplice. Feeling betrayed, Morris claims he never wants to see Russell again. Later, Morris learns that Russell has been moved out of prison and into a hospital where is dying of AIDS. Morris reconciles with Russell before he dies. When Russell is sent to meet with his lawyer soon after he learns that Russell is alive and posing as his lawyer. He makes another plan to get Morris released, but fails. An obvious flight risk and talented escapee, Russell is placed in solitary. Once Morris is finally released, Russell makes another attempt to escape.