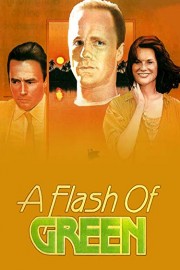 Watch A Flash of Green
TV-MA
1986
2 hr 1 min
A Flash of Green is a 1984 drama film directed by Victor Nunez and starring Ed Harris, Blair Brown, and Richard Jordan. The film follows the story of a journalist named Jimmy Wing who uncovers a scheme of illegal land development and environmental degradation in a small town in Florida. Jimmy Wing, played by Ed Harris, is an ambitious journalist working for a local newspaper, the Verdi Beach Sun. He dreams of working for a big newspaper but his boss, Luther, played by Richard Jordan, thinks he is too hot-headed and reckless. Wing is investigating a story about a local hotel that plans to extend its property by filling in the nearby wetlands. He is shocked to discover that the powerful developers behind the project are harming the environment and using bribe money to silence local officials.
As Wing investigates the story, he becomes romantically involved with a wealthy socialite, Robin, played by Blair Brown. Robin is married to a prominent businessman, who is also involved in the illegal land development scheme. She supports Wing's investigation and helps him gather information, but their relationship becomes complicated as Robin is torn between her loyalty to her husband and her growing feelings for Wing.
Meanwhile, Wing's investigation brings him into conflict with Luther, who is also corrupt and has a stake in the development project. Wing's persistence in pursuing the story puts him in danger as Luther orders his henchmen to intimidate and threaten him.
The film is a commentary on the corruption and greed that often accompanies the pursuit of wealth and power. The fragile ecosystem of the Florida wetlands is depicted as a victim of human greed, and the film suggests that the destruction of the environment is a symptom of a larger moral decay.
A Flash of Green is also a character study of Jimmy Wing, who is portrayed as a flawed hero. He is a man of integrity, who passionately believes in the importance of journalism and the power of the press to expose the truth. However, he is also stubborn, impulsive, and prone to making rash decisions that put him in harm's way. His relationship with Robin further complicates his already complicated investigation, and he must navigate the power dynamics between them while trying to protect her from her dangerous husband.
The performances in the film are strong, particularly Ed Harris in the lead role. His portrayal of Jimmy Wing is nuanced and multi-layered, and he effectively conveys the character's idealism, passion, and vulnerability. Blair Brown is also excellent as Robin, who is torn between her loyalty to her husband and her growing affection for Wing.
The film's cinematography is also noteworthy, with beautiful shots of the Florida landscape that serve as a stark contrast to the environmental destruction taking place. The film's themes of environmental degradation and moral decay are further emphasized by the use of stark lighting and shadows.
In conclusion, A Flash of Green is a compelling drama that explores the themes of corruption, greed, and environmental destruction. The film is performed and shot with skill while also serving as a commentary on the moral state of affairs in America. Although lesser-known than many of Harris's other films, A Flash of Green is a worthwhile viewing experience for fans of character-driven dramas and socio-political commentary.
A Flash of Green is a 1986 drama with a runtime of 2 hours and 1 minute. It has received mostly positive reviews from critics and viewers, who have given it an IMDb score of 6.6.