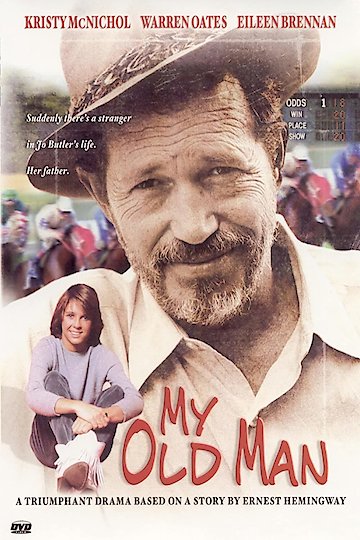 Watch My Old Man
"They said a lot of bad things about my father. But they didn't know the real man behind the rumors... and it took all my love and faith to prove them wrong."
1979
1 hr 42 min
My Old Man is a heartfelt drama based on Ernest Hemingway's novel of the same name, which explores the complicated relationship between a young woman and her alcoholic father. The movie was released in 1979 and starred Kristy McNichol, Warren Oates, and Eileen Brennan. The story follows the life of Joe (Warren Oates), an aging writer who spends most of his time drinking and reminiscing about his past. Joe is estranged from his daughter, Liz (Kristy McNichol), who has grown up resenting her father's neglectful behavior and alcoholism. Despite their strained relationship, Liz finds herself drawn to her father's old haunting stories of adventures on the high seas, which she imagines holds the key to understanding her father's true character.
As the story unfolds, we see how Joe's alcoholism has affected his life and relationships with people close to him. We witness his tumultuous marriage to his late wife, Liz's mother, and how his behavior led to their estrangement. We see how Joe's drinking has also impacted his writing career and his friendships.
Throughout the movie, Liz tries to come to terms with her feelings towards her father, and at times, we see her torn between pitying him and being angry with him. We also see her trying to form relationships with people her own age, including a young man named Danny (Gary McCleery), her father's former protege.
The film is beautifully directed by the veteran TV and film director, John Erman. Erman infuses the movie with a sense of nostalgia for a bygone era, and the picturesque coastal setting of Italy, where the story is set, adds to the film's charm.
The movie's talented cast delivers outstanding performances, particularly Warren Oates, who delivers a heart-wrenching portrayal of a man struggling to come to terms with his demons. Kristy McNichol, who was a rising star at the time of the movie's release, gives a nuanced performance as Liz, skillfully portraying the character's emotional turmoil.
Eileen Brennan's portrayal of Joe's former friend, the flirtatious and outspoken Mrs. Bell, adds a necessary dose of humor and lightheartedness to the movie's overall somber tone.
The film's score is composed by the legendary Henry Mancini, who expertly captures the movie's emotional depth with his music.
Overall, My Old Man is a touching, poignant, and tragically beautiful film that explores the complexities of family relationships and the impact of alcoholism on the lives of those it touches. It's a powerful ode to the human experience that will stay with viewers long after the credits roll.
My Old Man is a 1979 drama with a runtime of 1 hour and 42 minutes. It has received moderate reviews from critics and viewers, who have given it an IMDb score of 6.4.