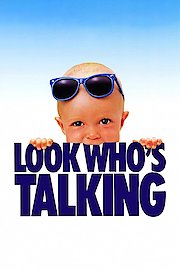 Watch Look Who's Talking
PG-13
1989
1 hr 36 min
51
"Look Who's Talking" is a 1989 romantic comedy film, directed by Amy Heckerling and starring John Travolta, Kirstie Alley, and Olympia Dukakis. The movie follows the lives of Mollie Jensen (Kirstie Alley), a single mother, and James Ubriacco (John Travolta), a taxi driver, who become romantically involved after Mollie's babysitter puts her in touch with a potential date.
The catch is that while Mollie and James are falling in love, their lives are also being narrated by the thoughts of Mollie's infant son, Mikey (voiced by Bruce Willis). Through Mikey's perspective, we get to hear his thoughts on everything from love and relationships to the everyday struggles and joys of growing up.
As the relationship between Mollie and James evolves, they must navigate various obstacles, including Mollie's overbearing mother (Olympia Dukakis), James' unresolved feelings for his ex-girlfriend, and the challenges of raising a child together.
Along the way, Mikey serves as the comedic relief, with his witty one-liners and quirky observations on the world around him. One of the most enjoyable parts of the film is watching Travolta and Alley's chemistry on screen, as they navigate the ups and downs of their relationship.
One of the standout scenes in the film is the iconic dance sequence between Mollie and James, set to the tune of "The Time of My Life" from the hit movie "Dirty Dancing." The scene is both fun and romantic, and serves as a pivotal moment in their relationship.
Overall, "Look Who's Talking" is a heartwarming and funny film that explores the complexities of love and family, with a unique twist provided by the voice of Mikey. With its memorable performances and catchy soundtrack, the movie has stood the test of time and remains a beloved classic of the rom-com genre.
Look Who's Talking is a 1989 comedy with a runtime of 1 hour and 36 minutes. It has received moderate reviews from critics and viewers, who have given it an IMDb score of 5.9 and a MetaScore of 51.