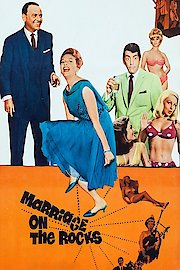 Watch Marriage on the Rocks
"Any Number Can Play!"
Approved
1966
1 hr 49 min
Marriage on the Rocks is a classic movie from 1965, and it stars the legendary Frank Sinatra, the gorgeous Deborah Kerr, and the handsome Dean Martin. This movie has stayed relevant for over five decades and continues to be a classic for a reason. With an exciting storyline and top-notch performances from the lead actors, this movie is a must-watch for everyone who loves good cinema.
The movie revolves around Dan Edwards (Frank Sinatra) and Valerie Edwards (Deborah Kerr), a couple who has been married for around 17 years. Dan is a successful businessman who loves his wife very much but spends a lot of time at work. Valerie, on the other hand, is a housewife who is often lonely and feels ignored by her husband. Their marriage is on the rocks, and they have been living separately for a while.
Enter Ernie (Dean Martin), Dan's best friend, a successful divorce lawyer who loves to go out and have fun. Ernie is also having problems in his own marriage and has been separated from his wife for a while. When Dan finds out that Valerie is planning to divorce him and take half his earnings, he decides to ask Ernie for help. Ernie suggests that they take Valerie on a trip to Mexico to reconnect and try to save their marriage.
The trio heads to Mexico, where they check into a luxurious resort hotel. However, things don't go according to plan, and they end up getting into all sorts of situations. Dan and Valerie continue to argue, and Ernie becomes increasingly attracted to Valerie. Things get even more complicated when Ernie's wife shows up, and Dan ends up falling for her! The rest of the movie shows how these four characters try to sort out their emotions and end up making sense of their lives.
One of the most notable things about Marriage on the Rocks is the chemistry between the lead actors. Frank Sinatra and Deborah Kerr play their roles brilliantly and do justice to their characters' emotional depth. Their love story is heartwarming, and their arguments are intense, making the audience empathize with them.
Dean Martin, who plays Ernie, brings a lot of charm, humor, and zest to the movie. His character is more carefree and optimistic than the others, and he adds the much-needed levity to the narrative.
Apart from the performances, the movie's setting is beautiful, and the scenes shot in Mexico are breathtaking. The sets and costumes are also top-notch, giving the film an authentic and classic feel.
Overall, Marriage on the Rocks is a delightful movie that explores the complexities of marriage, relationships, and family dynamics. It shows how even the most successful people face problems in their personal lives and how love can conquer all. It is a timeless movie that has something for everyone- drama, comedy, romance, and adventure. If you're a fan of classic cinema or looking for a movie that will make you feel warm and fuzzy inside, Marriage on the Rocks is undoubtedly one to watch.
Marriage on the Rocks is a 1966 comedy with a runtime of 1 hour and 49 minutes. It has received moderate reviews from critics and viewers, who have given it an IMDb score of 5.7.