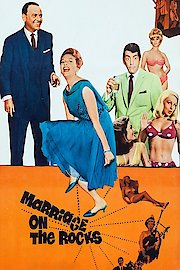 Watch Marriage on the Rocks
"Any Number Can Play!"
Approved
1966
1 hr 49 min
Marriage on the Rocks is a 1965 comedy. Frank Sinatra, Dean Martin, and Deborah Kerr star. The story is about a married couple named Dan and Valerie Edwards. The couple has been married for nineteen years. Dan pays more attention to his advertising agency than he does to Valerie. Valerie becomes bored with Dan and their life together. She and her two children are charmed by Uncle Ernie who lives an exciting bachelor lifestyle. Ernie showers Valerie with attention, compliments, and gifts. Ernie encourages his friends to take a vacation to Mexico to revitalize their marriage. Their vacation spot specializes in quickie marriages and divorces. Valerie and Dan go to Mexico and end up getting a divorce by accident. Ernie travels to Mexico to intervene and he and Valerie end up getting married by accident.