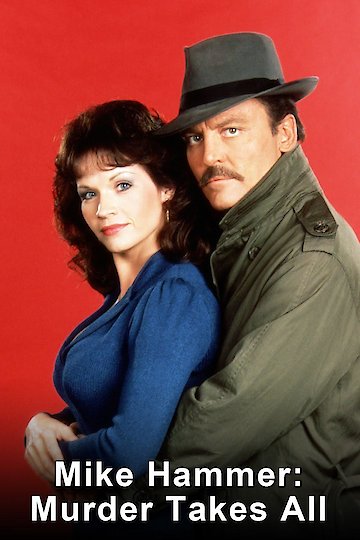 Watch Mike Hammer: Murder Takes All
PG
1989
1 hr 32 min
Mike Hammer: Murder Takes All is a crime thriller from 1989, directed by Gary Nelson and starring Stacy Keach, Lynda Carter, and Lindsay Bloom. The movie revolves around tough private detective Mike Hammer, played by Stacy Keach, who is hired by a wealthy businessman named Carl Durant, played by Kent Williams, to protect his beautiful young wife Jennifer, played by Lynda Carter. Jennifer is a former actress who is now a successful businesswoman, and she has been receiving threatening letters from someone who wants to harm her.
Mike takes the job and starts investigating the case, but soon discovers that things are not as simple as they seem. He uncovers a web of deceit and betrayal involving Carl, Jennifer, and a number of other shady characters, including a former Russian spy, a crooked accountant, and a corrupt police detective.
As Mike delves deeper into the case, he finds himself caught in the crossfire between various factions, all of whom are trying to get their hands on a valuable piece of stolen artwork that Jennifer apparently possesses. The tension builds as Mike races against time to solve the case and protect Jennifer from harm.
Stacy Keach delivers a strong performance as Mike Hammer, the tough, no-nonsense detective who is always one step ahead of his foes. He brings a sense of grit and determination to the character that is both convincing and captivating.
Lynda Carter is also excellent as Jennifer, the beautiful and mysterious woman who may or may not be telling the truth about her involvement in the case. Her performance is nuanced and complex, and she manages to create a strong sense of intrigue around her character.
Lindsay Bloom also puts in a solid performance as Velda, Mike's trusted assistant and confidante. She provides a good foil to Mike's tough demeanor, bringing a softer, more empathetic touch to the proceedings.
The movie features some well-executed action sequences, including a thrilling car chase and a tense shootout. The pacing is brisk and the plot is engaging, with enough twists and turns to keep viewers guessing until the very end.
Overall, Mike Hammer: Murder Takes All is an entertaining and well-crafted crime thriller that is sure to please fans of the genre. Stacy Keach is excellent in the lead role, and the supporting cast is strong as well. The movie is definitely worth a watch for anyone who enjoys a good mystery with plenty of action and suspense.