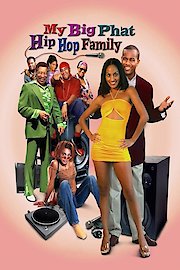 Watch My Big Phat Hip Hop Family
"They put the 'Dis' in Dysfunctional!"
NR
2005
1 hr 48 min
Audrey is a music candidate at large Midwestern university. She is the "odd duck" in a family of outrageous performers. Her mom and dad were part of a 70's funk/R&B singing group. Her brother is the current crown prince of rap, hip-hop and fashion, and her younger sister is an outrageous combination of Lil' Kim and Little Bow Wow. But Audrey is down on the music scene and heavy into the arts, culture and academia. She's had it with attitude, ego, arrogance and noise. She hides her family from the new love of her life, who later becomes the latest hip-hop hit artist. A mad cap adventure begins when Audrey's family rolls into the college town, turning the campus upside down. My Big Fat Greek Wedding Meets the Parents with The Wedding Singer as a special added attraction.