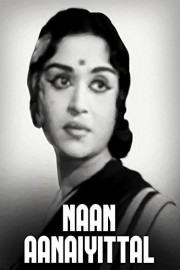 Watch Naan Aanaiyittal
NR
1976
3 hr 2 min
Naan Aanaiyittal is an Indian Tamil-language action drama film, which was released in 1966. The movie is directed and produced by M.G. Ramachandran. It stars Saroja Devi B., M.G. Ramachandran, and S.A. Ashokan in the lead roles. The story of the film is about Sivaji (played by M.G. Ramachandran), a young man who leads a carefree life with his friends. He falls in love with Radha (played by Saroja Devi), who is a village belle. However, Radha is already engaged to her cousin, Raja (played by S.A. Ashokan), a wealthy businessman. Sivaji and Raja have a bitter enmity due to their different mindsets, and their hostility towards each other increases when they both fall for the same woman.
Sivaji and his friends encounter a group of armed robbers and capture them. Due to his heroic act, Sivaji becomes popular among the common people. Raja, who is impressed by Sivaji's bravery, decides to help him marry Radha. Meanwhile, Radha's father arranges her marriage with Raja, which causes Sivaji to become heartbroken. But Raja decides to sacrifice his love for Radha and arranges for Sivaji and Radha's wedding.
After their marriage, Sivaji and Radha start a new life together. However, their happiness is short-lived when Sivaji comes to know that Raja has been murdered. The police accuse Sivaji of the crime, but he denies it. He decides to prove his innocence and sets out to find the real culprit. The rest of the movie follows Sivaji's quest to clear his name and bring the real killer to justice.
Naan Aanaiyittal was a commercial success and received positive reviews from critics. The film's screenplay and music were praised, and M.G. Ramachandran's performance was lauded. The film's songs, composed by K. V. Mahadevan and written by Kannadasan, were also popular among audiences.
Overall, Naan Aanaiyittal is a classic Tamil film that tells a story of love, sacrifice, and revenge. With a strong cast, great music, and an engaging screenplay, the movie has become a favorite among Tamil cinema enthusiasts.