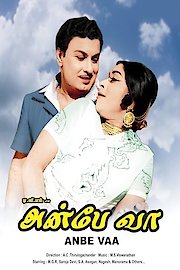 Watch Anbe Vaa
Anbe Vaa is a 1966 Tamil romantic comedy film directed by A.C. Thirulogachander and starring M.G. Ramachandran, Saroja Devi B., and Nagesh in lead roles. The movie is about a wealthy young man who falls in love with a simple girl and how he goes through many trials and tribulations to win her heart. M.G. Ramachandran, popularly known as MGR, plays the lead role of Sivaraman, a wealthy businessman who is used to leading a carefree life. His life takes a dramatic turn when he meets a simple college girl, Radha, played by Saroja Devi B., during a train journey. Radha is traveling to Chennai to find a job to support her poor family.
Sivaraman is smitten by Radha's simplicity, beauty, and humility. He starts following her and tries to win her heart. However, Radha does not pay any attention to him as she believes that true love can only be found in a simple and honest relationship.
Sivaraman, not able to take no for an answer, decides to follow her to Chennai and starts living in the same locality as Radha, posing as a poor man. He changes his lifestyle and habits, pretending to be a humble person, in order to impress Radha.
Things become complicated when Radha's uncle, played by Nagesh, also falls in love with Radha and starts creating problems in her life. Sivaraman, now disguised as a poor man, tries to resolve the issues and helps Radha whenever she gets into trouble. However, as time passes, Radha discovers that Sivaraman is not who he claims to be and has been fooling her all along.
The movie takes an interesting turn when Sivaraman's true identity is revealed to Radha, and she forgives him for his deceit. The two finally confess their love for each other, but their happiness is short-lived as Sivaraman's past catches up with him. He is arrested for a crime he did not commit, and Radha must find a way to prove his innocence and free him from jail.
Anbe Vaa has all the elements of a classic rom-com – a perfect blend of romance, comedy, drama, and action. The chemistry between MGR and Saroja Devi B. is electrifying and adds to the charm of the movie. The music of the film, composed by M.S. Viswanathan and T.K. Ramamoorthy, is another highlight, with songs like "Mannavane" and "Aasaiyai Rathiye" becoming evergreen hits.
Overall, Anbe Vaa is a must-watch movie for fans of MGR and Saroja Devi B. It has a timeless appeal and is still loved by audiences of all ages. The film's storyline, performances, and music make it a classic in the Tamil film industry.
Anbe Vaa is a 1966 drama with a runtime of 174 hours. It has received mostly positive reviews from critics and viewers, who have given it an IMDb score of 7.2.