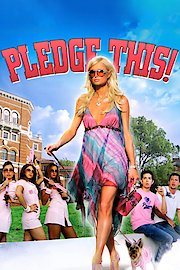 Watch National Lampoon's Pledge This!
"Pledging Has Never Been This Hilarious."
National Lampoon's Pledge This! is a comedy-based film that came out in 2006. The film itself was directed by William Heins, as well as Strathford Hamilton in a few sequences. National Lampoon's Pledge This! starts with a group of girls in the middle of trouble because a toilet explodes in one of the dorms, and this forces them to look elsewhere for a place to live. With nothing in mind, they still find themselves looking around South Beach University and eventually decide to pledge a sorority called Gamma Gamma. The president of the sorority is Victoria English, who is played by Paris Hilton, and she asks the group of girls to do some tasks while in the middle of their pledging process. In a strange twist, one of the girls named Gloria, played by Paula Graces, gets too close to Victoria's boyfriend, Derek, who is played by Simon Rex, but Victoria continues to let them pledge for the sake of meeting a school quota, as well as winning a "Hottest Sorority" contest. The film National Lampoon's Pledge This! was also produced by Jack Utsick, Juan-Carlos Zapata and even Paris Hilton, who has a major role in the film itself.