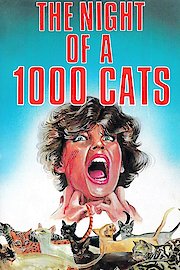 Watch Night of a 1000 Cats
"Pray you have nine lives"
R
1972
1 hr 2 min
"Night of A Thousand Cats" (1972) is a Mexican horror movie that's also known as "Blood Feast." In it, a playboy serial killer murders women and throws their bodies down a pit where he keeps the titular felines. The cats, of course, dispose of the evidence in the expected fashion. The killer also keeps the women's heads as trophies. Then, on one occasion, both the cats and his intended victim escape.