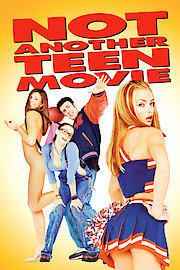 Watch Not Another Teen Movie
"They served you Breakfast. They gave you Pie. Now we're gonna stuff your face."
R
2001
1 hr 28 min
32
Not Another Teen Movie is a parody of all the famous teen movies that once existed. Teen movies are usually very dramatic and have lots of love take place in the teens who go to high school. It is definitely worth it to watch this movie if you personally enjoy watching movies similar to Scary Movie where several movies are copied and parodied to a certain extent. Scary Movie is definitely a film that you need to watch, and Not Another Teen Movie is worth viewing if you want to enjoy a similar type of film to the Scary Movie films. Not Another Teen Movie is a great movie that takes you on a ride to tons of different teen movies that you are so used to watching. Nearly every teen film that once came out before 2001 is a part of this movie. Just a few of the movies that you will view in Not Another Teen Movie is American Pie, The Karate Kid, Road Trip, and many others. The story involves showcasing the life of Jake who is the popular jock in school who breaks up with his girlfriend and tries to transform the look of a fellow girl to make her the prom queen of the school. He is the popular guy that all girls, including a few guys are in love with. His name in the school and his popularity definitely makes him a guy that deserves the popularity. In the story, he has friends and undergoes many things that literally copy the life of what other teen movies copy all the time. Not Another Teen Movie is not a movie for the young children in the house. This movie is best for those who are above the age of 15. The movie is quite interesting and has a lot of good parts that may make you laugh. If you want to watch a movie that brings you through a mashup of the most famous movies and teen films that showcase the teen life and brought into a comedy, this is the movie you have to watch. It is advised that you let your children watch a different movie since this film is quite bad for the young kids and talks about sex and other adult activities.