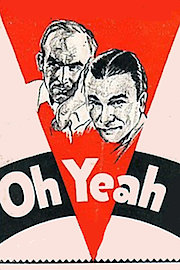 Watch Oh, Yeah!
"TWO FAMOUS STARS OF "IS ZAT SO" TEAMED FOR THE FIRST TIME ON THE SCREEN"
Passed
2009
1 hr 15 min
(1929, Pathe) Robert Armstrong, James Gleason, Patricia Caron, Zasu Pitts. Two drifters lose their earnings in a crap game. Before long they are suspected of theft. In a great climax, they duke it out with the bad guys on a moving flatcar as they head seemingly toward a head-on collision with another train. A little creaky, but fun overall. 16mm.
Oh, Yeah! is a 2009 comedy with a runtime of 1 hour and 15 minutes. It has received moderate reviews from critics and viewers, who have given it an IMDb score of 5.4.