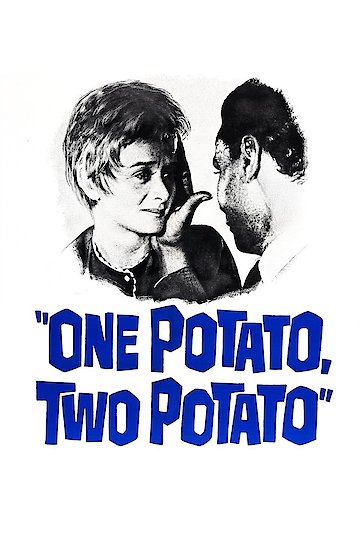 Watch One Potato, Two Potato
"One of the HOTTER Topics Of Our Time...Now Scorches the Screen!"
1964
1 hr 23 min
One Potato, Two Potato is a poignant drama released in 1964 which deals with the issue of interracial marriage at a time where it was not widely accepted. Directed by Larry Peerce and starring a talented cast including Barbara Barrie, Bernie Hamilton, and Richard Mulligan, the movie tells the story of Julie Cullen, a divorced white woman who falls in love with Frank Richards, a black man who has just moved to town. The movie starts with Julie and her daughter, Ellen, enjoying a day at the park where they meet Frank and his daughter. Julie and Frank strike up a conversation and soon sparks fly. However, Julie is afraid to take their relationship any further, imagining the backlash of their disapproving families and society. Despite her reservations, they start seeing each other frequently and when Frank gets a job offer in another state, Julie decides to quit her job and move with him. Things start to unravel when her ex-husband, Joe, decides to take legal action to gain custody of Ellen on account of her interracial relationship with Frank. One Potato, Two Potato is a groundbreaking movie for the time it was made, as it was one of the first films to address the issue of race relations and interracial marriage in a realistic, non-stereotypical way. The director was able to portray the human side of the situation, avoiding the usual heavy-handed approach to show the effect of bigotry and ignorance. One of the strengths of the movie is its portrayal of Julie's situation, as a white woman in love with a black man at a time when such a relationship was frowned upon. The movie shows the difficulties Julie experiences as an outsider in Frank's black community as well as the consequences of losing her standing in the white community. We see that Frank's family is supportive of their relationship, but this is not the case for Julie's family and community, who cannot cope with the idea of their daughter-in-law being black. Barbara Barrie is brilliant in her role as Julie, portraying her character with warmth, vulnerability and strength. Her portrayal of a woman torn between her love for Frank and her concern for her daughter is heart-wrenching. Bernie Hamilton, who plays Frank, is simply superb. He imbues his character with a quiet dignity and grace, without any bitterness, despite being subject to racism and discrimination. Richard Mulligan, who plays Julie's ex-husband, is excellent in his portrayal of a man who is threatened by Frank and can't come to terms with his ex-wife's new relationship. The film's cinematography is also noteworthy, with some memorable scenes such as the camera tracking the faces of the children watching a parade, or a scene where Julie and Frank walk holding hands down a deserted street as the only couple, expressing their feelings through a silent communication. The use of black and white photography enhances the stark, real-world subject matter. The movie's soundtrack is an interesting mix of different music styles that complement and enhance the story. The score features elements of jazz, blues, and folk as well as a memorable song "One Potato, Two Potato", sung by Lenny Welch. Overall, One Potato, Two Potato is a powerful movie that deals with complex themes such as love, racism, social acceptance and parenting. It is a thought-provoking and emotionally charged film that remains relevant even today, and it deserves a place in the annals of cinema history.