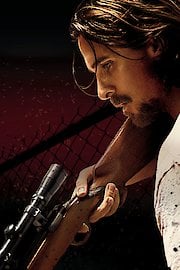 Watch Out of the Furnace
"Sometimes your battles choose you."
R
2013
1 hr 56 min
63
Out of the Furnace is a 2013 thriller drama directed by Scott Cooper and starring Christian Bale, Casey Affleck, and Zoe Saldana. The movie revolves around a blue-collar worker named Russell Baze (Christian Bale), who is struggling to make ends meet in a dying Rust Belt town. He spends his days working at a steel mill and caring for his terminally ill father.
However, Russell's life takes a turn for the worse when his younger brother Rodney (Casey Affleck) returns from serving in Iraq and becomes involved in underground bare-knuckle boxing matches to make money. After a particularly brutal fight, Rodney disappears, and the police seem reluctant to investigate. Russell takes matters into his own hands and sets out on a dangerous and violent quest to find his brother and bring justice to those responsible.
The movie tackles themes of family, loyalty, justice, and revenge. The performances of the lead actors are excellent, with Christian Bale delivering a nuanced portrayal of a man trying to hold his life and family together in the face of adversity. Casey Affleck is equally impressive as his troubled younger brother, brimming with anger and frustration at the world around him.
Zoe Saldana plays Russell's girlfriend, Lena, who provides a much-needed lightness to the somber tone of the movie. She is a caring and compassionate character who supports Russell through his struggles.
The movie's script is tightly written, with elements of suspense, drama, and action woven seamlessly throughout. The cinematography is also excellent, capturing the stark, barren landscape of rural Pennsylvania and drawing the viewer into the desolate world of the Baze brothers.
One of the strengths of Out of the Furnace is its focus on character development. Each character is given depth and complexity, and their motivations and emotions are explored in detail. This creates an emotional resonance that is rarely seen in movies of this genre.
The movie also serves as a commentary on American society, highlighting the effects of a failing economy on the lives of working-class Americans. It portrays the frustration and desperation of those left behind by a system that favors the wealthy and powerful.
Overall, Out of the Furnace is a gripping and thought-provoking movie that delves deep into its characters' psyche and shines a light on the struggles of ordinary people. It is a testament to the power of storytelling and the importance of empathy and compassion in a world that can often seem harsh and unforgiving.
Out of the Furnace is a 2013 thriller with a runtime of 1 hour and 56 minutes. It has received moderate reviews from critics and viewers, who have given it an IMDb score of 6.7 and a MetaScore of 63.