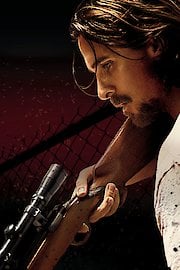 Watch Out of the Furnace
"Sometimes your battles choose you."
R
2013
1 hr 56 min
63
Russell Baze, played by Christina Bale (former Batman), has a very rough and complicated life. During the day he works a blue collar job at the steel mill in his local area and at night Russell takes care of his father who is terminally ill. When his brother Rodney returns home from Iraq, Rodney gets lured into one of the most dangerously ruthless crimes and suddenly disappears and people are left without a clue as to his whereabouts and why he has mysteriously disappeared. No one is able to find him; the police are just as stunned to his whereabouts as everyone else is. With no one, including the police, having a clue or any hints as to where Rodney may be, Russell takes matters into his own hands by putting his life on the line to save his brother. Also starring in this movie are Casey Affleck, Woody Harrelson, Zoe Saldana and Forrest Whitaker.