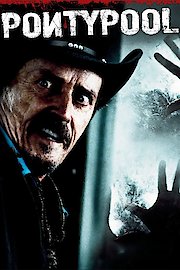 Watch Pontypool
"Shut up or die."
NR
2008
1 hr 35 min
54
In the 2008 horror-thriller Pontypool, Stephen McHattie plays Grant Mazzy, a former shock jock who has moved to the small town of Pontypool, Ontario to host a morning radio show. Along with his producer Sydney (Lisa Houle) and production assistant Laurel-Ann (Georgina Reilly), Mazzy spends his mornings in a cramped studio broadcasting the local news and weather to a small but loyal audience.
But when a strange virus begins to spread throughout the town, Mazzy and his team find themselves trapped in the studio as the infected begin to overrun the streets outside. As they soon discover, the virus is not transmitted through the air, but through language itself - specifically, any language that causes the brain to conceptualize its meaning.
As the infected broadcast their delirious babble over the radio, Mazzy and his team begin to realize that they are not just reporting on the outbreak - they are experiencing it firsthand. With their own language becoming a deadly weapon, the team must race against time to find a way to communicate without succumbing to the virus themselves.
Directed by Bruce McDonald and written by Tony Burgess (based on his own novel), Pontypool is a tense, claustrophobic thriller that takes a unique approach to the zombie genre. Rather than focusing on gore or violence, the film is driven by its intense dialogue and the slow progression of the virus, which creates a growing sense of dread as it spreads through the town.
At the heart of the movie is Stephen McHattie's performance as Mazzy, a grizzled veteran of the airwaves who finds himself at the center of a terrifying situation. McHattie brings a gravitas to his role that makes the character feel believable, even as the events of the movie become increasingly surreal.
Lisa Houle and Georgina Reilly also deliver strong performances as Mazzy's co-workers Sydney and Laurel-Ann, each bringing their own unique perspective to the escalating crisis. The interactions between the three characters are sharp and witty, but also tinged with a sense of impending doom.
Another standout aspect of the film is its sound design, which is both eerie and effective. The sounds of the infected broadcast over the radio create a haunting backdrop to the film, and the use of silence in certain scenes only heightens the tension.
Pontypool is a thought-provoking horror film that explores the power of language and communication in a unique and unsettling way. While the film's slow pace and confined setting may not appeal to all viewers, those who appreciate a more cerebral approach to horror will find much to appreciate in this inventive and atmospheric movie.
Pontypool is a 2008 horror movie with a runtime of 1 hour and 35 minutes. It has received moderate reviews from critics and viewers, who have given it an IMDb score of 6.5 and a MetaScore of 54.