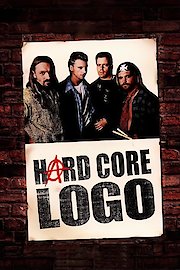 Watch Hard Core Logo
"4 Guys. 5 Nights. 3000 Miles. 764 Gallons of Gas. 987 Bottles of Beer. 3457 Cigarettes. 1 Last Shot."
R
2000
1 hr 32 min
A Canadian punk rock mockumentary that follows as a documentary team films the reunion of a cult band. Lead singer Joe Dick convinces his former bandmates John Oxenberger and Billy Talent to join him for an anti-gun benefit tour after his mentor is shot. Although it starts out okay as they hit the road, take drugs, and reminisce, things begin falling apart pretty quickly. Oxenberger stops taking his psychiatric medication, Talent finds out that the tour may interfere with another gig he has going, and Joe Dick has a secret of his own that can bring it all crashing down.