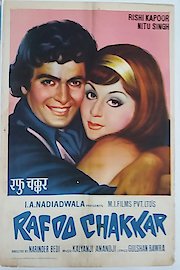 Watch Rafoo Chakkar
Rafoo Chakkar is a 1975 Bollywood film directed by Narender Bedi and starring Rishi Kapoor, Neetu Singh, and Rajendranath Malhotra. It is a light-hearted comedy that has been known for its entertaining music and dance sequences. The film revolves around two young men, Ravi and Vijay, who are forced to flee to Bombay after they become the prime suspects in a missing jewel case. While in Bombay, they disguise themselves as a dance troupe and join a theater group in order to earn a living. They quickly become famous for their dancing abilities, and they catch the attention of various female admirers.
The story takes a twist when Ravi and Vijay fall in love with the lead actresses of the theater group, Neetu and Rekha. However, their attempts at wooing them are met with stern resistance from their strict chaperones, who fear that the girls' reputations will be tarnished if they are allowed to mingle with men.
Throughout the film, Ravi and Vijay find themselves in and out of hilarious situations, as they try to win the hearts of their love interests while avoiding the clutches of the authorities who are still on their trail.
One of the highlights of the film is its music, composed by the legendary duo of Shankar-Jaikishan. The songs are catchy and memorable, with Laila O Laila and Rafoo Chakkar being the most popular among them. The choreography in the film is also noteworthy, with the song and dance sequences being highly entertaining and energetic.
The performances in the film are well-rounded, with Rishi Kapoor and Neetu Singh delivering charming and lively performances as the lead pair. Their chemistry is delightful to watch, and their on-screen presence lends a certain charm to the film. The supporting cast of Rajendranath Malhotra, Paintal, and Asrani add to the humor quotient, and their comedic timing is spot on.
Overall, Rafoo Chakkar is a well-made film that entertains with its light-hearted comedy, catchy music, and interesting plot. It is a classic Bollywood film that has stood the test of time, and continues to be enjoyed by audiences even today.