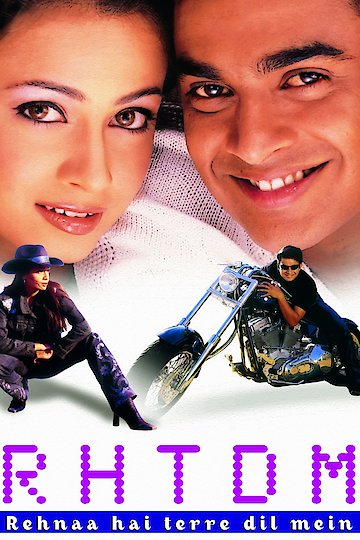 Watch Rehnaa Hai Terre Dil Mein
Rehnaa Hai Terre Dil Mein is a Bollywood romantic movie that was released in the year 2001. The movie is directed by Gautham Menon and produced by Vashu Bhagnani. The movie features Madhavan, Saif Ali Khan, and Dia Mirza in the lead roles. The movie begins with a young man, named Madhav Shastri (Madhavan), studying in Bangalore. He is a simple guy who dreams of marrying a girl whom he loves. One day, he sees a beautiful girl, Reena Malhotra (Dia Mirza), and falls in love with her at first sight. He tries to impress her but fails, as she is already engaged to her childhood friend, Rajiv (Saif Ali Khan). Rajiv is a rich, young man who studies in the United States and is coming to India to marry Reena.
Madhav decides to win Reena's heart and takes up a job in Mumbai to be close to her. He pretends to be Rajiv and starts spending time with Reena. Reena is unaware of Madhav's true identity and falls in love with him. As time passes by, Madhav realizes that he has actually fallen in love with Reena and cannot imagine life without her. He decides to tell her the truth, but before he can do that, Rajiv also returns to India to marry Reena.
Reena is confused and does not know whom to marry. Things get even more complicated when Rajiv's mother (played by Tanuja) insists that Reena should marry Rajiv as they are childhood friends, and their families have already decided the wedding arrangements. Madhav now has to fight against all odds to win Reena's heart and convince her and her family that he is the right guy for her.
The movie showcases the love triangle between Madhav, Reena, and Rajiv. It deals with themes of unrequited love, deception, and redemption. The movie's music, composed by Harris Jayaraj, was a major hit, with songs like "Zara Zara" and "Dil Ko Tumse Pyaar Hua" being extremely popular among the youth. The movie's cinematography by Ravi K. Chandran was also praised for its beautiful visuals.
The performances of the lead actors were well received by the audience and critics. Madhavan, who played the role of Madhav, was praised for his natural acting and charming looks. Saif Ali Khan, who played the role of Rajiv, was appreciated for his portrayal of a sophisticated and wealthy NRI. Dia Mirza, who played the role of Reena, was praised for her innocence and beauty.
Rehnaa Hai Terre Dil Mein was a box office success, and it is still remembered as one of the best romantic movies of Bollywood. It is a movie that will make you laugh, cry, and feel every emotion that the characters go through. It is a must-watch movie for all Bollywood lovers and anyone who loves a good romantic movie.
Rehnaa Hai Terre Dil Mein is a 2001 drama. It has received mostly positive reviews from critics and viewers, who have given it an IMDb score of 7.6.