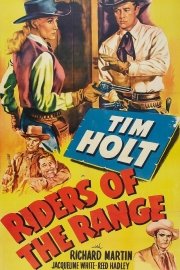 Watch Riders of the Range
"THEY CALL HER 'DUSTY"
Passed
1950
1 hr
Riders of the Range is a thrilling 1950 Western film directed by Lesley Selander and starring Tim Holt as a cowboy hero named Ray Kirk. It also features Richard Martin as his trusty sidekick, whom he affectionately calls "Crash," and Jacqueline White as a determined ranch owner named Janet Carter. The movie takes place in the fictional town of Gunsight, where Ray Kirk and Crash arrive to investigate a series of cattle rustlings. They are hired by Janet Carter, who is desperate to protect her herd from the bandits who have been stealing her livestock.
As Ray and Crash delve deeper into the mystery, they come across a group of riders led by the mysterious and menacing "Black Bart." It soon becomes clear that Black Bart and his gang are the ones responsible for the cattle thefts, and they will stop at nothing to get what they want.
With the help of Janet and her ranch hands, Ray and Crash set out to stop Black Bart and his gang once and for all. Along the way, they face dangerous shootouts, close calls, and thrilling horse chases.
The film is filled with classic Western tropes, such as dusty landscapes, showdowns at high noon, and daring feats of bravery. Tim Holt delivers a solid performance as Ray Kirk, a fearless cowboy with a heart of gold. Richard Martin provides comic relief as Crash, whose bumbling antics often put him in harm's way.
Jacqueline White shines as Janet Carter, the tough-as-nails ranch owner who refuses to back down in the face of danger. Her chemistry with Holt adds a touch of romance to the film, as the two characters share a mutual admiration and respect.
The cinematography is impressive, capturing the rugged beauty of the Western landscape and the excitement of the action sequences. The musical score is also noteworthy, featuring rousing orchestral pieces that heighten the tension and drama of the film.
Overall, Riders of the Range is a thrilling Western adventure that is sure to please fans of the genre. With its strong performances, fast-paced action, and solid production values, it is a classic example of the Golden Age of Hollywood Westerns.
Riders of the Range is a 1950 western with a runtime of 1 hour. It has received moderate reviews from critics and viewers, who have given it an IMDb score of 6.3.